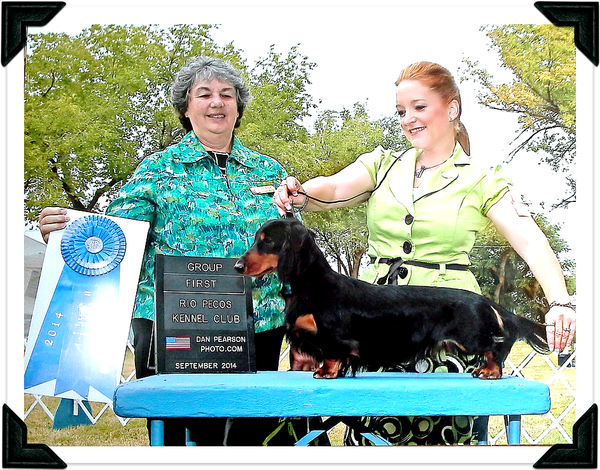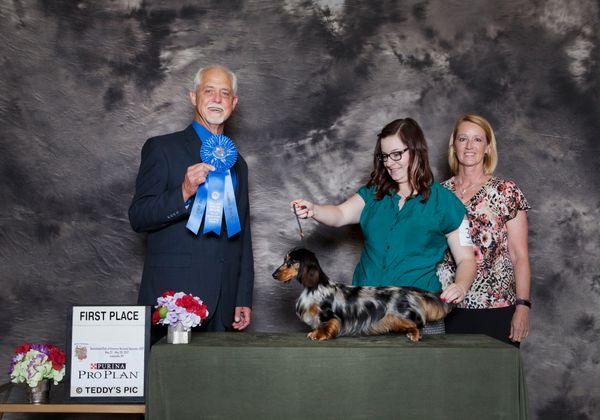 "Asher" is a lovely boy that Heather Ackby of Longdogia Dacshunds imported from Russia.  He has produced some beautiful puppies.  I was thrilled when Heather agreed to allow Reine to be bred to him.  It is my hope to solidify the Russian pedigree that I already have with my boy Digger (who I imported from Finland).  Can't wait to see these babies!!!
"Reine" is my lovely silver dapple girl that I kept out of my Willy/Caper Litter.  She finished her championship easily, including going 1st in her class at the Dachshund National Under j. Ken Levinson (pictured above).  She was Select Bitch at the Royal Canin Invitational in 2017 (out of 42 specials) and made it down to the last cut that the Dachshund Club of America National in 2018.  She has lovely dapple coloring and is very outgoing with a really sweet temperament.  
***Show and pet prospects welcome.  Best way to communicate is to email me at Pam@galewinns.com or through this website.
6/9/18 - Reine is in season.  Stay tuned...
6/18/18 - Reine's first progesterone is 2.8.  She is going to Heather's place today in New Mexico.
6/11 - 6/16/18 - Reine was AI'd 4 times.  Thank you Heather!
6/17/18 - Reine is back home from New Mexico.  Thank you Heather for taking such great care of my girl.  She is glad to be home!!
7/14/18 - I ultrasounded Reine as I have my own ultrasound machine and she is definately pregnant!!!  So excited...she is due on Aug. 22-24th.
8/20/2018 - Reine had her babies!!! We have 5 girls!!!  Three black & tans and 2 silver dapples.  They are all doing great and nursing well.  I will post some pictures soon!
10/22/18 - The puppies are 9 weeks old today and are doing great!  
BISS CH. Slelepytime's Franchise ML ROMX

Ch. Wagsmore's Extravaganza MLD

BISS. CH. Sleepytime's Jubilation ML

CH. Sleepytime's Regardless ML