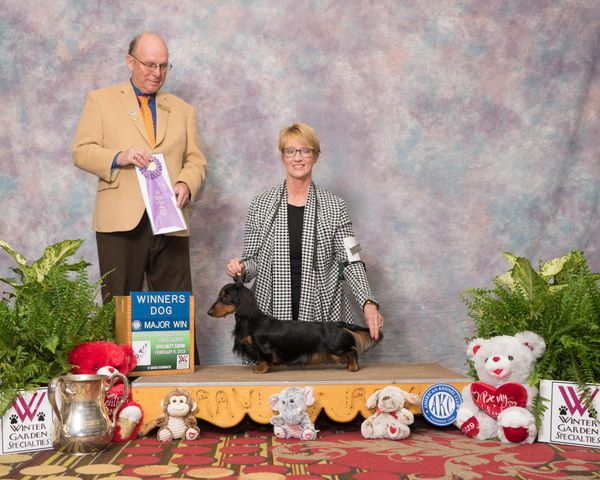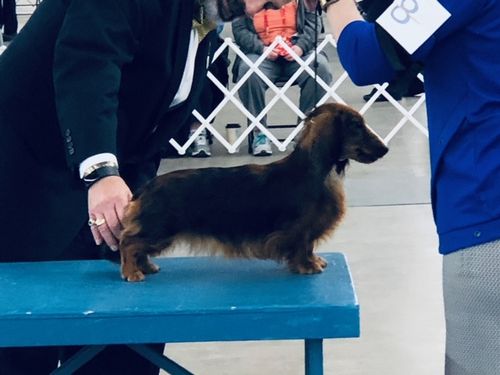 "Marshall" is our boy that we kept out of the Fiero/Gem litter.  He finished very quickly and is just starting his specials career.  His first weekend out he garnered a group 3 placement!!  He has a beautiful head, nice topline, and fantastic temperament.  We are looking forward to seeing what he produces as this is his first litter sired.
"Divvy" is a typey small bitch (9 lbs) with a beautiful sable overlay coat.  She has beautiful movement like her mother and a temperament that is endearing to everyone that meets her.  We feel that the combination of these two will produce beautiful babies and are conformationally correct and great temperaments to live with.
Show/pet/performance inquiries welcome.  Email is the best way to contact me at Pam@galewinns.com.
 Note:  one of the boys is still available.  Please email me if you are interested or call me at (970) 214-5328.
11/7/19 - Puppies are here!!!  We have a black & tan boy, a red sable boy, and a red sable girl.  They are all doing great.  Pictures to come soon!
12/23/19 - Can't believe the puppies are 6 weeks old already.  We did their first stacked pictures - see below.  Remember this was their first time really on the table.  We will do them again next week.  They are really darling puppies!
CH. Burdachs Brown Eyed Handome Man ML ROMX

Ch. Hundelben Victoria O'Sonata ML ROMX

BISS. CH. Sleepytime's Jubilation ML

CH. Sleepytime's Regardless ML