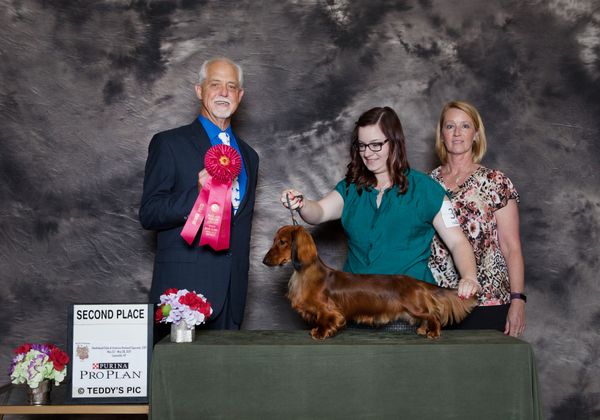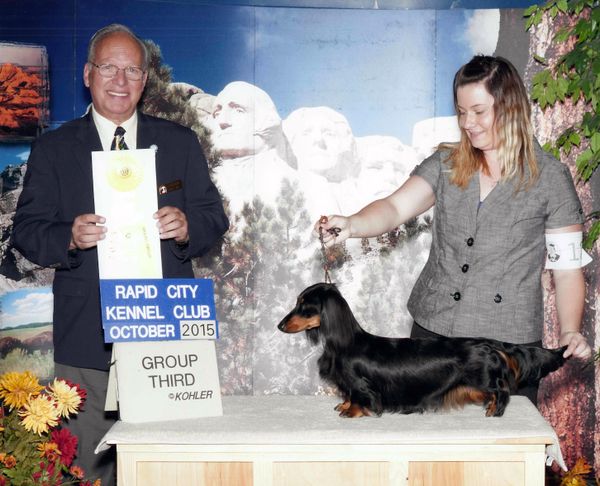 Digger is a boy that I imported from Finland.  He was bred by Paulina Artiola of Original Irish Setters & Dachshunds.  I am so thankful to have him!  He has such a great temperament - loves everyone and every dog.  He has a beautiful headpiece and lovely front.  He is homozygous red so he can only produce reds.  So, I will be having a litter of red babies (hopefully).
Caper is my pride and joy!  She is such a pretty girl and has done very well in the show world including group placements.  She has produced some great puppies in her past litters so I am looking forward to seeing what this combination produces.  This will be Caper's last litter so it makes it even more special.  You can  look at past litters to see what Caper has produced.
Puppies will be due the third week of April.  Inquiries welcome.  The best way to contact me is to send an email through this website.  I will answer within 24-48 hours.
2/3/18 - Caper is in season!!
2/11/18 - First breeding done.
2/13/18 - Second breeding done.
2/15/18 - Third and final breeding done.  Hopefully puppies will be due April 15-17.  Keeping my fingers and toes crossed! :)
4/13/18 - Xrayed Caper today - she has 4 puppies in there!!!  She is due in the next few days - send good thoughts!  Scroll down to see her pregnancy picture.
4/22/18 - Well Caper FINALLY had her puppies - about a week later than I expected.  She had a very long stage 1 labor however when she got serious the puppies were born in about 3 hours and all did fabulously!  They all immediately began to nurse and haven't stopped.  We have 2 girls and 2 boys - all are red sables (which I expected as the sire Digger is homozygous for red which means all he can produce are reds).  Scroll down for puppy pictures.
4/27/18 -  All four puppies are doing great - they have almost doubled their birthweights!!  Caper is such a fabulous mom and so attentive.  She is finally starting to relax a bit and is more comfortable with me handling them.  I have a handling program that I do with the puppies that is from "Puppy Culture" and I truly believe helps the puppies to develop. 
5/15/18 - The babies are doing great - they are 3 weeks old now.  Eyes are open and they are starting to walk.  They got a nail trim tonight - they weren't sure what to think of that!  Caper is being a wonderful mother - I couldn't ask for a better mom.  Scroll down for pictures of the little darlings...
6/11/18 - Can't believe the babies are 7 weeks old now.  I was gone for the Irish Setter National in Ohio for 8 days.  My dear friend and co-breeder Sherry Ceplius took care of the babies while I was gone.  They had a great time and got fabulous socialization.  I am so thankful for her help and wonderful care of the babies.  Got them back home tonight and Shea and I took stacked pictures of them.  I LOVE them - so pretty and outgoing.  Scroll down for pictures...remember this was the first time that they were stacked up so gotta cut them a little slack! lol
RU CH RU JCH RKFV Kinchville Basic Element of Bezazz

US CH RU CH BY CH GE CH RKFV AZ CH Dash N' Doxies Low Suspension

RU CH RU JCH RKFV Mystique Vom Rainerschlossl

RU JCH Kinchville Atlanta

RU CH RU JCH RKFV Storfoten's Wagner

EE CH LV CH RU CH RU JCH RKFV Southwinds Big City Lights ML

Lekoll Bobbi Sharm Ivolga

LV CH RU CH RU JCH Lekoll Bobbi Sharm Paradise

FI CH EE CH RU CH BY CH RU JCH Daks Veg As Martin Tin

RU CH BY CH RU JCH RKFV Lekoll Bobbi Sharm Uhti-Tuhti

Lekoll Bobbi Sharm Fleur De Vie

RU CH RU JCH Daks-Veg-as Yul Brynner

Lekoll Bobbi Sharm Ochevidnoe-Neveroeyatnoe

BISS. CH. Sleepytime's Jubilation ML

CH. Sleepytime's Silver Spangle ML

CH. Sleepytime's Regardless ML

CH. Sleepytime's Figure of Speech ML

CH. Sleepytime's Free Spirit ML