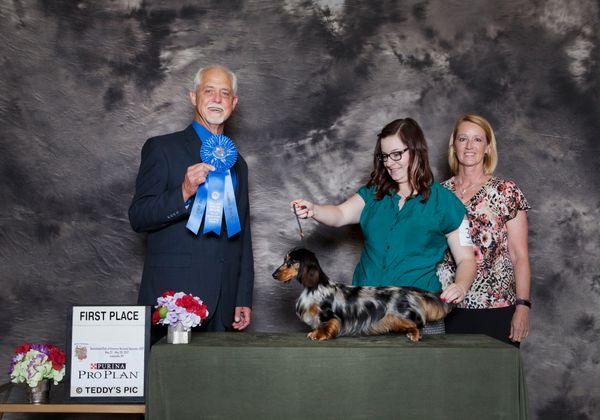 CH. Galewinns Kaycees Four Queens MLD
(GCH. Galewinns Kaycees Golden Ticket ML
D x GCH. Galewinns Kaycees Partner In Crime ML)
Whelped 5/9/2016          HP514154/02
Reine (pronouced rainy) is the girl that I kept out of the repeat breeding of Willy to Caper.  Her name comes from the french word for "Queen" which is Reine. She is so balanced and moves effortlessly.  She has her dad's pretty face and thick coat and her mom's sound rear. She got her pretty front from both!!  Can't wait to watch her grow up.
Season - 1/29/17, 10/31/17, 1/30/19, 11/18/19    Rab -3/26/18 Canine Flu-7/16/17
11/11/16
-
Reine
wins her first point today under j. Del Richards.  So proud of how she showed for her first time.
11/13/16
-
Reine
wins her second point under j. Dale Simmons. How fun!
1/8/16
-
Reine
wins 3 point major in at the Palm Springs show out of the 6-9 month puppy class.  Only her second show! Thank you to j. 
 Mrs. Kimberly Meredith-cavanna.
4/8/2017

- Reine 

wins two points under j. Adrian Woodfork.  Her brother Devin goes BOW for two points as well!  What a fun day!
5/26/17 - Reine goes first in her class at DCA (12-18 mo).  What a nice win - so proud of her.
6/25/17
-
Reine
goes Winners Bitch for a 3 point major under j. Del Richards.  Now she has her second major!!
6/27/17
-
Reine
goes Winners Bitch for her 3rd major - 3 points under j. Donnelle Richards.
7/8/17
-
Reine
goes Winners Bitch for 2 points to finish her championship under. Terry Stacy.  She sure finished quickly!  Now to mature for her "specials" career.
December 2017
-
Reine
is shown for the first time in awhile - we went to Florida to the Royal Canin Invitational.  There were 42 longhair dachshunds entered and
Reine
went Select Bitch!!!  I was so pleased - it was a great win for her and a nice way to start garnering points for her grand championship!
2/16/18 - Reine wins Best of Breed at the Plum Creek show under j. Alan Odom.  She was BOS the next day under j. Kenneth Tippie and Select under j. Sid Marx.  
BISS CH. Slelepytime's Franchise ML ROMX

CH. Sleepytime's Brit Sterling ML

Ch. Wagsmore's Extravaganza MLD

Ch. Suntura's Silver Star ML

BISS. CH. Sleepytime's Jubilation ML

CH. Sleepytime's Silver Spangle ML

CH. Sleepytime's Regardless ML

CH. Sleepytime's Figure of Speech ML

CH. Sleepytime's Free Spirit ML