"Tank"
CH. Galewinns Rio Grande
(BIS BISS CH. Jewelset Second Attraction x GCH. Galewinns Tramore Unassuming Grace)
Whelped 3/28/12  SR724469/02 Hips OFA Excellent Thyroid OFA Normal CERF Normal
Tank is the puppy that I kept out of the Trent/Rio litter.  He was about 1/3 bigger than his littermates, hence the name "Tank".  We called him that as a nickname and it just stuck.  He has a delightful temperament and loves everyone and everything.  He is the perfect combination of Trent and Rio.



9/29 & 9/20/12

- Tank goes Winners Dog and Best of Winners for a point each day under judges Cindy Vogel and Kimberly Meridith-Cavana.  So cool that he got points his first time in the ring!!  He also took a Sporting Puppy Group 1 in the puppy competition.  Best of all was that he had a great time at the show and really handled everything great.



11/3 & 11/4/12

- Tank goes Best In Sweepstakes and Winners Dog both days at the New Mexico Sporting Dog Specialty under judges Betty-Anne Stennmark & Anne Katona .  He picked up two more points each day so now has 6 pts at the tender age of 7 months.  He also got a puppy group 4!!  I am having so much fun with this boy.  He just loves anything and everything that we do.
Feb. 2013
- Tank wins a major reserve two of the 4 days at the Denver shows.  He is still such a puppy in the ring - sure keeps me on my toes!
May 2013
- Tank wins a point at the Laramie show.  First time he has been in the ring in a while.
June 2013
 - Tank wins a major at the Longmont shows on Sat and wins reserve Winners dog on Sunday.  He is starting to come together - ie. keeping all four feet on the ground! lol  He now has 11 points with one major.
July 4th, 2013
- Tank goes Best In Sweepstakes at the Dallas Irish Setter Specialty under judge Clint Livingston.  I was thrilled!
July 6th, 2013
- Tank goes Best Of Winners for a 3 point major under judge Debbie Campbell-Freeman at the Dallas shows.!  He needs only 1 point to finish!!  I got a lot of nice compliments on him (in spite of his antics in the ring!) so that is always nice.  See pictures below.
Aug 15th, 2013
- Tank finishes his championship by taking a FIVE point major under judge John Savory at the Irish Setter Club of Colorado!!!!  He was Best Bred By as well.  I was so thrilled and to have him finish on the first day of the 4 day show was amazing!  Pictures will be posted soon!!

I - #2 3/17/13  #3 5/1 w/ Lep - 11/16/13 HW - 6/22/13 R-5/28/14 MC#956000002523944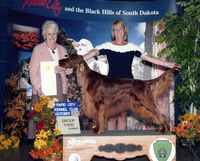 Ch. Meadowlark's Irish Monarch ROM

CH. Saxony's Southern Nights ROM

Ch. Pompei's Touch of Class

CH. Saxony's Uptown Tangerine

Ch. Rusticwood's Running Mate ROM

Ch. Seregon Second Edition ROM

Ch. Quailfield's Mak'n Business ROM

CH. Quinniver's Roadrunner

Am. Can. CH. Tealwood's Dutch Rose

CH. Quinniver's Perfect Alibi

Ch. Meadowlark's Irish Monarch ROM

Ch. Courtwood Halls O' Ivy