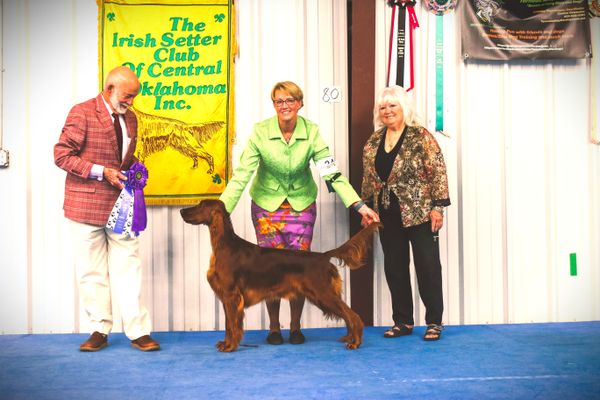 "Zoom"
CH. Galewinns Photo Finish
(CH. Galewinns Huntersglen Bodacious JH x CH. Galewinns Seventh River of Paradise)
Whelped 4/18/2021 SS281286/02 
S #1 - 2/3/2022  MC#956000013741553  Rab - 2/22/2022 5/1-8/23/2022
Zoom is the puppy that I kept out of the Bode/River litter.  I wasn't planning on keeping a puppy but the more I watched them grow up the more I realized how beautiful they were.  Such pretty moving puppies in her litter and I knew the temperaments would be good as mom & dad were amazing.  So...purple girl stayed at Galewinns.
9/18/2021 - Zoom is shown for the first time in 4-6 month old puppy class at the Roaring Fork Kennel Club show.  She was AMAZING - showed so beautifully like she had done this a million times.  She took a puppy group 2 but the best part was what a natural show dog she is.  I am going to have so much fun with her!  Scroll down for video of her in the ring.
1/3-1/7/2022 - Zoom is entered in her first show in Arizona.  She has a great debut - winning a 3 point major under j. Micheal Canalizo and going reserve winners bitch at the other 5 shows!!!!  I couldn't be more proud of her at a mere 9 months old. She showed like she had done it for years - I really had fun with her.
4/8/2022 - Zoom goes Winner's Bitch under j. Douglas McFarlane for 2 points.  See win picture below.  She now has 5 points.
5/7/2022 - Zoom goes Best of Winners at both Oklahoma Specialties today!!!  This brings her to 14 points with 3 majors - only 1 more point to finish her championship.  I got so many nice compliments on her from the judges - really meant a lot! Scroll down for her win picture. Judges were Suzanne Dillin and Sam McDonald.
5/28/2022 - Zoom goes BOW for a point to finish her championship under j. Linda Riedel.  She is a champion at 14 months old!!  Now we have to continue our Rally training!!!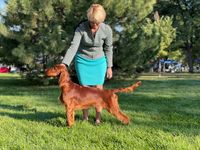 Ch. Courtwood Inn Keeper ROM