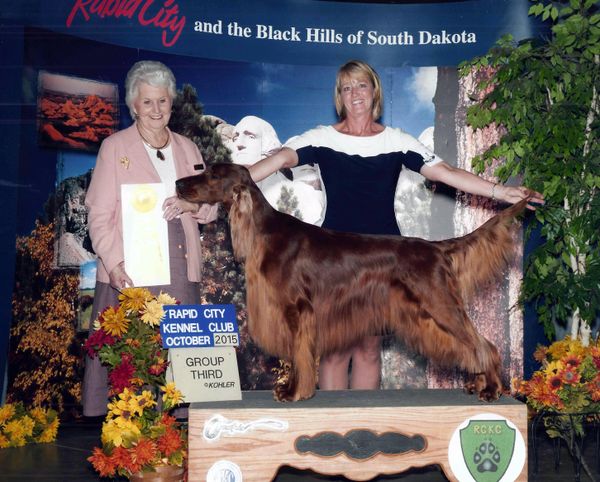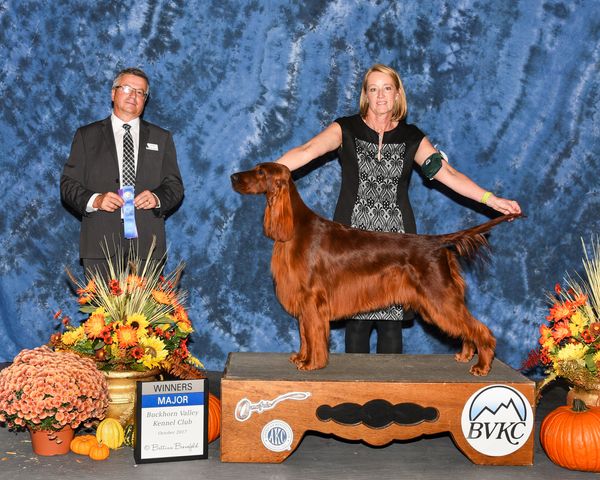 Tank is my "very special boy" - he was #8 in the country with ME showing him in 2017.  He has attitude to die for and is smart and so eager to please.  He is a beautiful mover with a gorgeous head and is very balanced.  He has produced nicely in the past and has quite a few champions under his belt.  Tank is VERY birdy and has been amazing in field training.  I should have field titles on him - my only excuse is lack of time.  His son CH. Galewinns Ramblin' Man recently finished his Master Hunter title.  He is owned and trained by Pat Skavlen.
Deni is "my very special girl".  She finished her championship quickly and has done quite well as a special with many nice breed wins.  However, her greatest accolade is teaching me how to run agility!!  She is my first agility dog that I have titled and I couldn't be more proud.  Her and I have had a ball and we have a lot of agility trials left to do together.  This will be her last breeding as she will then focus on agility.
I am hoping to have beautiful puppies with wonderful temperaments.  These puppies should be able to do it all - hunt, performance, and conformation.  Inquiries are welcome - best way to reach me is by email at Pam@galewinns.com.
11/20/19 - Deni is in season - finally!!!
11/29, 30, & 12/2/19 - Deni is bred!!!  Now keep your fingers crossed for puppies.  Puppies are due Jan. 29-31st.  So excited...
12/23/19 - I ultrasounded Deni and she is DEFINITELY pregnant!!!  Yay!!  Babies due Jan. 29-31st!
1/30/2020 - Puppies are born!!  We have 7 girls and 6 boys.  It was a long labor but Deni whelped them beautifully.  Stay tuned for pictures...
1/31/2020 - Lost one of the boys (:  So hard to lose them but sometimes it just happens.  Breaks my heart.  The other 12 are doing great - will be watching them closely.
2/2/2020 - All 12 puppies are vigorous and strong - nursing really well.  They are so vigorous that I can't even get weights on them as they wiggle right out of the scale!
2/24/2020 - Puppies are doing great!  They are up and around the whelping box and barking and playing with each other now.  I started feeding them today - they immediately chowed down.  Deni is a great mom but it is a lot to keep up with 12 puppies.  Scroll down for some new pictures.
3/13/2020 - Just posted the 6 week pictures.  So good to finally see them stacked up.  I am really liking these puppies.  Beautiful heads and pretty bodies - nice moving puppies.  Very outgoing and love to learn!
Ch. Meadowlark's Irish Monarch ROM

CH. Saxony's Southern Nights ROM

Ch. Rusticwood's Running Mate ROM

CH. Quinniver's Roadrunner