"GEM"



CH. Galewinns Treasured Gem
(CH. Galewinns Kaycees Golden Ticket MLD x CH. Galewinns Kaycees Partner In Crime ML)
Whelped 12/27/14  HP488699/01
Gem
is the sole surviving puppy out of Caper's first litter.  Caper had 3 girls and one boy - one girl was born dead and then I lost another girl and the boy over the next 4 days.  It was DEVASTATING!!  I did necropsies and the girl died of aspiration pneumonia but there was no cause of death found on the boy.  Needless to say,
Gem 
has been smothered in love and Shea and I are so thankful that we have this special girl...hence her name...Galewinns Treasured Gem!!  She has been very healthy from the start and has the most delightful temperament - it is truly a combination of Willy & Caper.
Gem
is co-owned with Shea Jonsrud and myself - she lives with Shea and her uncle Baxter.
7/11/15
-
Gem
is entered in her first show and she goes Winners Bitch for a point under j. Murrel Purkhiser!  What a fun start!
7/12/15
-
Gem
does it again - Winner's Bitch for another point under j. Gloria Gerringer.  So proud of her!
8/13/15
-
Gem
is in her first specialty - Rocky Mountain Hound Show - and goes Winner's Bitch for a 3 point major under j. Micheal Dougherty!!!  Such a great start for this little punkin!
8/15/15
-
Gem
does it again!!!  She goes Winner's Bitch and Best of Winners for another 3 point major under j. Adrian Woodfork.  Wow - what a weekend for this little girl! 
8/29/15
-
Gem
wins another major at the Cheyenne shows!! She was Winner's Bitch for a 3 point major under j. Judith Brown.  And...her mother (Caper) won the breed.  What a fun day!!!!
8/30/15
-
Gem
goes Winner's Bitch, Best of Winners, and Best of Breed (over her mother!) to finish her championship with 4 majors!!!  This wonderful win was under j. Patricia Trotter.  We are over the moon - what a finish at only 8 months old!!!  Shea and I are thrilled with this little girl - she truly is a "special"!!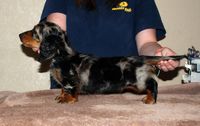 BISS CH. Slelepytime's Franchise ML ROMX

CH. Sleepytime's Brit Sterling ML

Ch. Wagsmore's Extravaganza MLD

Ch. Suntura's Silver Star ML

BISS. CH. Sleepytime's Jubilation ML

CH. Sleepytime's Silver Spangle ML

CH. Sleepytime's Regardless ML

CH. Sleepytime's Figure of Speech ML

CH. Sleepytime's Free Spirit ML