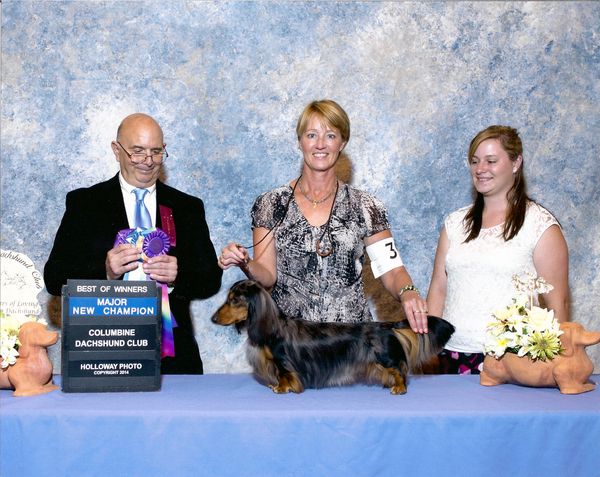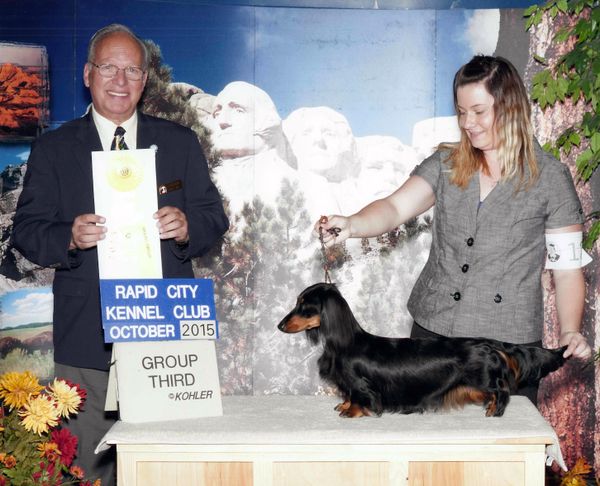 CGH. Galewinns Kaycees Golden Ticket MLD "Willy" - Willy is a miniature dapple who has attitude to "die for"!  He loves to show and gets along with every dog and person.  He finished his championship and his grand championship with some lovely breed wins.  This will be a repeat breeding to Caper as we love the girl "Gem" that we got from the last breeding. You can also see Willy on his page on this website - just click on "Dachshund Males" - then click on "Willy".

CH. Galewinns Kaycees Partner In Crime ML "Caper" is a singleton puppy.  But what a singleton she has been!!  She has multiple group placements with very limited showing.  Caper has a very outgoing temperament and is such an easy dog to live with and to show.  Everyone who meets her falls in love with her!  She has had one litter in January 2015 - her puppy "Gem" finished at 8 months old in 4 weekends with 3 majors!!  You can see Gem on this website - click on "Dachshund Females" then click on "Gem.  Caper also had a full page on this website.

Caper is due in season in February 2016....so any day now.  We are showing her in New York in February so hoping she holds off until after that!!  
August 2016 - All of the puppies are in their new homes.  My next breeding will be Jinx sometime in the fall of 2016.
2/23/16

- Caper is in season!!!!  Will hope to breed her next week.  We are using fresh chilled semen.
2/29/16
- Caper's first progesterone was 0.3 today.  Will recheck in 2 days.
3/2/16
- Progesterone is 0.2 today.  Will recheck again in another couple of days.
3/4/16
- Progesterone is 0.3 today.  
3/7/16 -
Progesterone is 5.0 today!!!  We will ship semen and breed her on Wednesday.  So excited...
3/9/16
- Well...in typical fashion for dogs...we couldn't get Denny to collect.  Melissa (Sworab) took him to the vet with no success there either.  So...we shipped semen on Ehren (CH. Burdachs Brown Eyed Handome Man RoM) who is Denny's sire.  We did a double collection and the semen arrived safely to Colorado.  The first TCI (transcervical implant) was done today.
3/10/16
- We shipped Ehren's semen again and a second TCI was done today.  
3/11/16
- Melissa and I talked at length and agreed that we would do a breeding with our boy Gch. Galewinns Kaycees Golden Ticket (Willy) naturally today to cover Caper as I don't want to "miss" this season.  Willy is  the sire of Caper's first litter and our girl Gem is precious!  I planned on repeating this breeding however was going to do it on Caper's next season.  But circumstances are such that we will do it this time and possibly have a "dual sired litter".  Since Ehren carries for red only, it will be easy to tell the sire by the color of the puppies.  I will still DNA test them but we will know by color.
Now we anxiously wait....:)
4/6/16
- I ultrasounded
Caper
yesterday and she
is pregnant!!!
 We saw at least 3 - but know that an ultrasound is not good for a "count".  It is basically to tell us yes or no as to if she is pregnant.  I will xray her a week before she is due to see how many puppies we have.  She is already getting big!!! She is due May 9-11th. 
4/19/16
- I have my own ultrasound machine so I have been ultrasounding puppies every 3-4 days.  I can see at least 4 and wouldn't be surprised if there is a 5th.  I can see them growing and moving around - it is soooo cool!  
Caper
is doing well - a bit crabby with the irish setter puppy Denni but that is understandable! lol
5/2/16
- Xray done today - shows 5 puppies!!!  So excited - they appear to be good sized puppies.  Please scroll down to see the xray.  
Caper
is doing great - she is still pretty active and eating great. Puppies due 5/8-5/10/16. 
5/9/16
- We have babies!!!  We have 2 black & tan boys, 1 dapple boy, and 1 dapple girl.  So, needless to say, Willy is obviously the sire.  All are doing great -nursing immediately.  Scroll down for some pictures.  Caper whelped them pretty easily and is being a fabulous mother! Thank you Shea, Sherry, and Nancy for being there to help!  And thanks to Shea for sharing her birthday with these puppies!!!
5/10/16
- All of the puppies have gained weight nicely and are nursing vigorously which is music to my ears!!! Scroll down for some cute pictures!
5/17/16
- Puppies all doing great!  Supplementing the red boy some with the bottle - he is a "lazy" nurser and just needs a few extra calories.  He is strong and vigorous - just a bit lazy. He is gaining weight nicely as are all of the puppies.  They got their first nail trim last night and new collars put on as they have already outgrown the old ones. Doing my puppy exercises with them nightly to stimulate neurological function - they are all tolerating being upside down, etc. without any problems.  Scroll down for pictures.
5/20/16
- All the puppies are doing great!  The red boy isn't needing to be supplemented anymore - he is gaining weight right along with the rest of the gang.  Waiting for eyes to open.  Spending time with them everyday doing puppy exercises - holding them upside down, feeling inside of their feet and toes (which they really like), playing with their ears, etc.  They are so cute - I can hardly stand it!!  Will get more pictures soon - having the irish setter puppies interefered with my photography schedule! lol
5/25/16
- Puppies all have their eyes open!!  They got new collars today and a nail trim.  I am leaving for the irish setter national today so auntie Sherry (Sherry Ceplius) is taking the puppies to her house tonight.  Sherry and I co-breed our litters so it is great that they get time to spend with their "other mom".  She will keep them for  me until I get back - it sure helps knowing that they are in good hands!!
6/5/16
- Well...I am finally home from the irish setter national!!  I sure missed the babies but Sherry did a fabulous job with them.  Their eyes are all open now and they started on puppy food yesterday.  They are up and walking around now - just starting to play with each other and with toys.  
Caper
is starting to wean them - I suspect their teeth are getting way too sharp!!  Scroll down for some pictures that Sherry took of the puppies while I was away. 
BISS CH. Slelepytime's Franchise ML ROMX

CH. Sleepytime's Brit Sterling ML

Ch. Wagsmore's Extravaganza MLD

Ch. Suntura's Silver Star ML

BISS. CH. Sleepytime's Jubilation ML

CH. Sleepytime's Silver Spangle ML

CH. Sleepytime's Regardless ML

CH. Sleepytime's Figure of Speech ML

CH. Sleepytime's Free Spirit ML