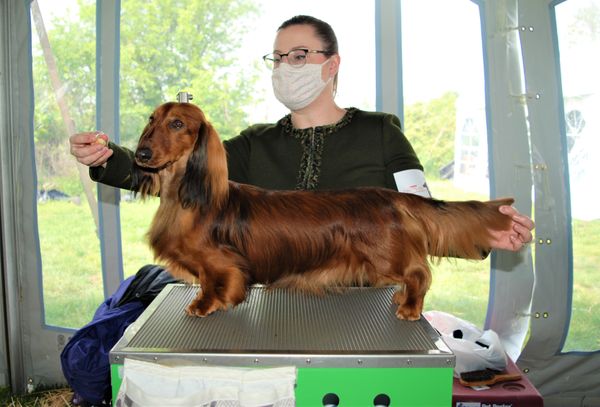 "Digger"

CH. Original Be-Long To Galewinns

(CH. Kinchville Dardal x Lekoll Bobbi Sharm Ivolga)

Whelped 1/22/2016            HP516090/01                  MC#978101081584178

Bred by Paulina Artiola of Original Irish Setters & Miniature Dachshunds
Finland
5/1-8/26/2022

I am so thankful to Paulina Artiola for letting me have this beautiful boy!!  When she had a litter of 6 dachshunds - 5 boys and 1 girl - all reds - I quickly asked if I could get one of the boys.  She said yes and even agreed to bring him to the USA as she was coming to the Irish Setter National in San Diego in June. I am so thrilled with this boy - he has such a delightful, outgoing temperament and is truly a joy to be with.  He has melded well with all of my other dogs and it feels like he has been here forever.  

Watch for Digger in the show ring this summer - we are going to have a ball with this amazing little dog!!!
7/12/16 - Digger got his AKC registration today and is entered in his first show - July 30 & 31st in Casper, Wyoming.  Going to be fun to get him in the ring!

4/1/17 - Digger finishes his championship with his second major on Friday at the Scottsbluff Kennel Club show under j. Muriel Purkhiser.  On Sunday, he won the breed!!!  So proud of this boy. Pictures to follow soon...
3/7/16 - Digger's first litter is born!  He was bred to our girl Jinx (who is a silver dapple) and we have 1 red sable girl and 2 red sable boys.   Please see "Digger/Jinx" litter for pictures of the puppies.
5/26/2017 - Digger goes second in the 12-18 class at the national (DCA) - we were so proud of him!
Sept 2020 - Digger and I have been training in agility for the past 15 months.  We ran our first agility trial this weekend - we had a blast.  No q's but we were so close.  We have a really good foundation built - now to go and have fun and get "trial miles"!! See some agility pictures below.
April 2021 - We were finally able to run our second agility trial and Digger was amazing!!!  He had 4 qualified runs!!!! So proud of him!
May 2021 - We ran another agility trial and Digger finishes his Novice Jumpers Title!!!!  We are learning so much and enjoying our training together.
Rab#1-7/14/17  Rab#2-11/24/2020  CanInflu-7/16/17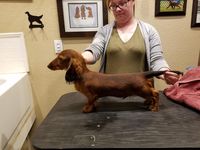 RU CH RU JCH RKFV Kinchville Basic Element of Bezazz

US CH RU CH BY CH GE CH RKFV AZ CH Dash N' Doxies Low Suspension

RU CH RU JCH RKFV Mystique Vom Rainerschlossl

RU JCH Kinchville Atlanta

RU CH RU JCH RKFV Storfoten's Wagner

EE CH LV CH RU CH RU JCH RKFV Southwinds Big City Lights ML

Lekoll Bobbi Sharm Ivolga

LV CH RU CH RU JCH Lekoll Bobbi Sharm Paradise

FI CH EE CH RU CH BY CH RU JCH Daks Veg As Martin Tin

RU CH BY CH RU JCH RKFV Lekoll Bobbi Sharm Uhti-Tuhti

Lekoll Bobbi Sharm Fleur De Vie

RU CH RU JCH Daks-Veg-as Yul Brynner

Lekoll Bobbi Sharm Ochevidnoe-Neveroeyatnoe