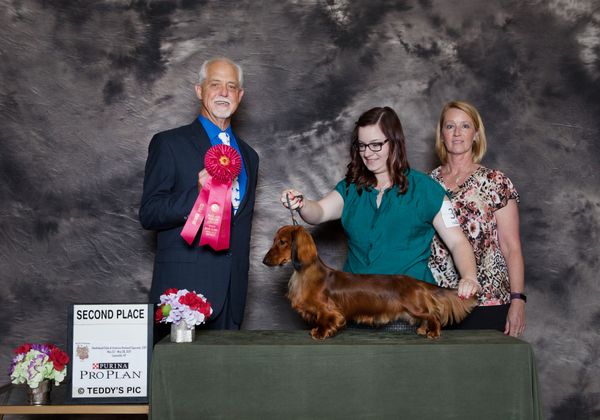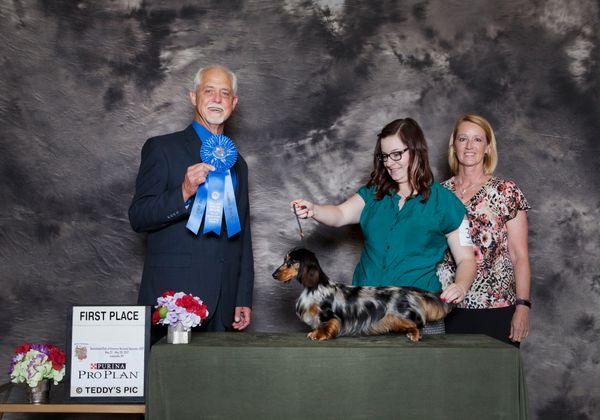 Digger is a boy that I imported from Finland.  He was bred by Paulina Artiola and I am so grateful that she allowed me to have him!  He has such beautiful breed type and a temperament to die for.  He finished his championship easily and now we are training in agility.  Hoping to start him at agility trials in April.  He has a beautiful headpiece (with a hunter's crest!), lovely forechest and front assembly, and nice keel.  He is very clean moving and carries a nice topling.
Reine is my beautiful dapple girl.  Her and I had a ball in the show ring and she has had some lovely wins.  She has multiple breed wins and was Select Bitch and Royal Canin Invitational in 2018.  This is her second litter.  Her first litter was 5 girls and was lovely - you can see the puppies on this website - click on 'Past Dachshund Litters" and then click on Asher/Reine Litter.
Show/pet/performance inquires welcome.  It is best to email me at Pam@galewinns.com or through this website.
1/20/2020 - Xrayed Reine - she has SEVEN puppies in there!!!  Holy cow - that is my biggest litter yet.
1/28/2020 - Babies are here!!!  We have 6 girls and 1 boy.  We decided to do a c-section as she was so big I was afraid she might get in to trouble.  So, I opted to do a planned c-section.  All 7 babies are great - scroll down for some pictures and puppy breath!
2/24/2020 - Sorry for the lack of updates - had trouble with my website server.  Finally got it fixed and we are up and running!  Babies are doing great - up and walking around now.  They will be 4 weeks old tomorrow.  Just started feeding them today - they chowed down like pros.  Reine is a great mom and takes such good care of her babies.  Digger (sire) hopped in the whelping box today and had a ball with the puppies.  Scroll down for some pictures of the little darlings.
RU CH RU JCH RKFV Kinchville Basic Element of Bezazz

US CH RU CH BY CH GE CH RKFV AZ CH Dash N' Doxies Low Suspension

RU CH RU JCH RKFV Mystique Vom Rainerschlossl

RU JCH Kinchville Atlanta

RU CH RU JCH RKFV Storfoten's Wagner

EE CH LV CH RU CH RU JCH RKFV Southwinds Big City Lights ML

Lekoll Bobbi Sharm Ivolga

LV CH RU CH RU JCH Lekoll Bobbi Sharm Paradise

FI CH EE CH RU CH BY CH RU JCH Daks Veg As Martin Tin

RU CH BY CH RU JCH RKFV Lekoll Bobbi Sharm Uhti-Tuhti

Lekoll Bobbi Sharm Fleur De Vie

RU CH RU JCH Daks-Veg-as Yul Brynner

Lekoll Bobbi Sharm Ochevidnoe-Neveroeyatnoe

BISS CH. Slelepytime's Franchise ML ROMX

Ch. Wagsmore's Extravaganza MLD

BISS. CH. Sleepytime's Jubilation ML

CH. Sleepytime's Regardless ML