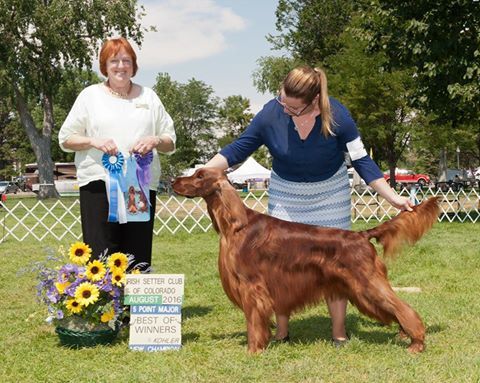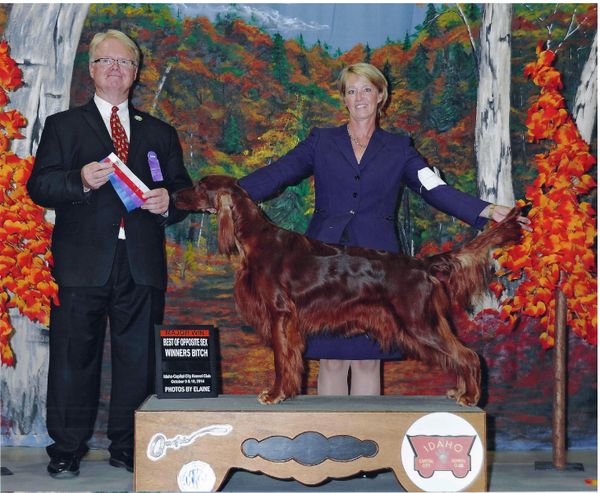 Flynn (CH. Sweetwood's Flynn Ryder) is a dog that was bred by Kim and Carrie Des Lauriers. He finished his championship easily and finished his Grand championship even easier. He has a beautiful head, lots of straight coat, and moves so nicely. I have enjoyed watching him in the show ring and I enjoy his temperament. 

Chica (CH. Galewinns Who's Your Daddy?) is my Bagger daughter.  Bagger was my "heart dog" and I miss him every day.  Chica finished her championship at age 2.  She was bred last year and produced a very nice litter.  She has a beautiful shoulder layback and that came through in her puppies.  If you look on this website under "Past Irish Setter Litters" you can see her puppies.  It is the "Bayard/Chica Litter".

Puppies should be "on the ground" in early March - they will be ready to go to their new homes in early May.  Show and pet inquiries are welcome.  Email is the best way to get a hold of me at Pam@galewinns.com.

12/28/16 - Chica is in season!!!

12/30/16 - First Progestrone done as is 5.2!!!!  She is ready to breed!

12/31/16 - We did a artificial insemination today - the collection was good.  Will try again tomorrow.

1/1/17 - We got a natural breeding!!!  Will try again in 2 days.

1/3/17 - We did an artificial insemination today - again the collection was good.  I think we are done breeding.

1/22/17 - We did an ultrasound as I have my own ultrasound machine.  It is really VERY early to ultrasound but I am pretty sure I saw multiple puppies in there.  So excited - we are going to have puppies!!  Chica is due on March 7th, 2017.

3/4/17 - Babies are here!!!!  We have 4 girls and 4 boys and all are doing wonderful!!!  Chica is a very good mother - very attentive. She whelped them pretty easy in about 5 hours.  So thankful to have them here and all are healthy and plump. Scroll down for some pictures of the little darlings.

3/15/17 - Babies are 12 days old already and doing great!  Eyes are just starting to open. They pretty much eat and sleep - I think I am a bit jealous!! lol  Chica is such a great mom and is taking good care of her babies.

3/25/17 - The babies are 22 days old and getting bigger every day!  They are now up and walking.  They recognize my voice and come to me when I call them.  Theya re wagging their tales and playing with each other.  I play different noises and music all day so they are getting use to noises.  Diane (Chica's co-owner) came to visit today and brought some new stuffies - we had so much fun watching their reactions to the stuffies and the noises they made.  The are all barking now - the cutest thing ever!!  Scroll down to see pictures and a new video.

3/30/17 - Puppies are 28 days old today!  Hard to believe that 4 weeks have already gone by.  I started feeding them as Chica is starting to wean them.  The took to food like they had been eating for years!  I am exposing them to loud sounds and have people (including children) coming in to visit and socialize with them.  They are bold puppies and very inquisitive.  Unfortunately, Chica has developed some mastitis so we are taking care of her - she is on antibiotics and we are hot packing her teat.  It is pretty painful for her - but even with the pain she is such a good mom.  I am watching Chica "like a hawk"!! Scroll down for a new video and some pictues.

4/1/17 - What a day we have had!!  Chica ended up having surgery for her mastitis today - we had to remove the mammary gland and remove some of the dying tissue.  A drain was placed to facilitate healing.  We are now irrigating her wound 4 times per day and continuing antibiotics.  By Saturday evening, it was obvious she was already starting to feel better.  I also moved the puppies down to the basement where I have runs with indoor/outdoor access.  I am not letting the puppies go outside yet as it is still pretty chilly.  However, they have a lot more room and have things to climb over and get more exercise.  I also have the basement full of agility equipment including a puppy teeter, puppy a-frame, and tunnels, etc that they will be able to play with once they are settled in to their new area.  Scroll down for more pictures. Chica and I are exhausted....


4/3/17 - Chica went back to the vet today for another laser treatment to help her wound heal.  She is doing much better - the drain was removed.  She is feeling so much better - eating good and started carrying her stuffed toys again.  She even went outside and walked about 1/2 mile with me.  I am letting her nurse the puppies but only "supervised nursing" so that her dressings don't get torn off.  The puppies are still nursing but we are weaning them.  They are getting 3 meals a day and doing fine.

4/11/17 - Chica is healing beautifully!  We have done laser and acupuncture on her and the wound is approximately 75% healed.  We no longer need to irrigate it or keep a dressing on it.  She is feeling great and back to her normal self.  The puppies are doing very well - still trying to nurse but she is weaning them.  I have started stacking training with them every night - it is amazing how quickly they can adapt.  I have a "puppy agility" course set up in my basement for them to explore.  I want them to get use to different surfaces, loud noises, climbing, etc.  They are just starting to be brave and try everything out.  Please scroll down for a video of them exploring and some pictures.

We also did their first stacked pictures tonight.  Please don't judge the puppy's conformation yet - they are WAY TOO YOUNG!  However, it is great training and it allows me to watch them develop and know how they are built.  Darling pictures and I am proud of how they did for their first time.  I will take stacked pictures weekly so you can see them develop.

4/21/17 - We did 7 week stacked pictures - it always amazes me how much they change in 2 weeks.  They are getting bold and just LOVE people.  They run to sit in your lap or be held.  They are having a ball playing on the puppy agility equipment - very courageous and not afraid to try anything.  Very nice temperaments on all of them - not a shy one in the bunch!!
CH Pin Oak Secret-Lee Ashton JH

CH Beaubriars Electrifying JH

CH Vermilion's Estate Tax

CH Vermillion's Braveheart

CH Vermilion's Waltz Acros Texas

CH Heatherwood's All American Girl

CH Rusticwoods Gate Keeper

CH Heatherwood Call To Glory CD RN

Ch. Analains Dirty Dancing