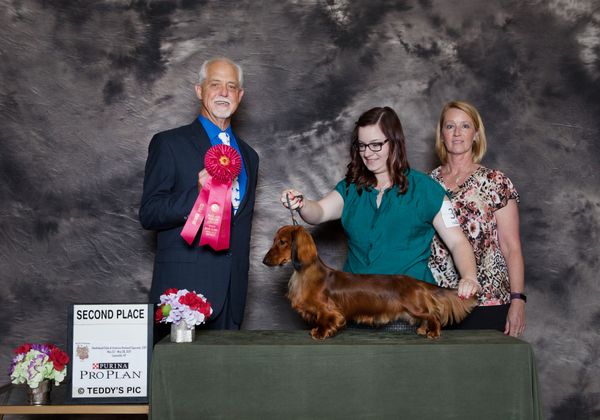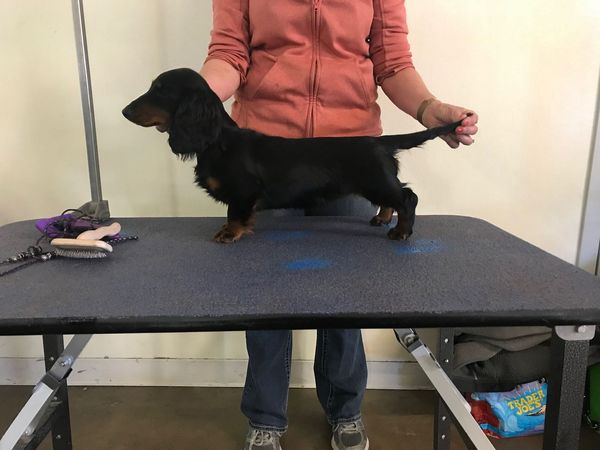 "Digger" is such a special boy.  I imported him from Finland from breeder Paulina Artiola.  He finished his championship easily and him and I are now doing agility.  He was in his first trial last month and we had a ball!  He is so outgoing and LOVES everyone.  He loves puppies and is the best puppy sitter ever!  His front assembly is beautiful as is his head.  He has produced very nicely for us.  He is homozygous for red so can only produce red puppies.
"Trevi" is my little spitfire!  She is smart and pretty - all in one package.  She has a beautiful coat - lovely front and head and solid rear.  She moves beautifully.  This pedigree is a long term plan coming true for me as I am line breeding on the russian side of this pedigree.
Show and pet home inquiries are welcome.  The best way to contact me is via email through this website or at Pam@galewinns.com.  I am able to answer emails quicker than phone calls.
10/12/2020 - Trevi is in season....stay tuned.  Puppies expected the week before Christmas - she is due Dec. 18-20th.  
10/16-10/18/2020 - Trevi was bred to Digger - all went well.  So, hopefully we will be having puppies - they are due December 18-20!!
11/15/2020 - I ultrasounded Trevi and she is definitely pregnant!!  She is already getting big so I suspect a good sized litter.  She is pretty sure she is starving to death! :)
11/28/2020 - Trevi is getting bigger and bigger.  I will xray her around the 14th of December to get a count.
12/4/2020 - Trevi is really big and getting uncomfortable.  Scroll down to see a picture of her belly :)
12/15/2020 -  Babies are here!!!  We elected to do a c-section as her xray showed 7 puppies!!!  That is a huge litter for a miniature dachshund.  She actually started into early labor this morning and I think she would have had the puppies tonight,  But with such a big litter you risk losing puppies, so I opted to do a c-section.  It went well - all 6 puppies are doing great!  Their weights are between 6-8 ounces so perfect.  Trevi is doing great as a first time mom after a c-section.  I will be watching them all closely!!  Shea was with me the entire way and I can't thank her enough! Pictures below...
12/17/2020 - So all 6 babies are doing good.  We have 5 boys and 1 girl.  They are all strong and nursing well. I have put yarn collars on them so I can tell them apart.  The pink is the girl - the boys are blue, red, teal, green, and black.   I am supplementing the black collared boy as he is the smallest and wasn't gaining weight.  I started this morning and he is already gained 0.4 ounces today so doing well.  I think I will only have to supplement him for a few days and he will be fine.  Trevi's milk was a little slow coming in (probably because of the c-section and anesthesia) so that will only get better.  She is a great mom - very attentive to the puppies.  Scroll down for some pics & video.
12/23/2020 - Puppies are 8 days old today!  All are gaining weight and doing great.  I am still bottle feeding the black collar boy 2-3 times a day just because he is smaller and gets pushed off by his siblings.  He is doing great with the supplementation.  They got their first toenail trim today.  Trevi is wanting to spend short periods of time away from the puppies now but VERY short periods - she is a great mom.
1/3/2021 - Puppies have their eyes open now!  They are up and "wobble walking" - so cute.  Scroll down for video of them.
1/7/2020 - I moved the puppies to their new digs - the Irish setter whelping box.  It is much bigger and gives them some room to start to roam.  I had so much fun watching them get comfortable moving about more.  
1/29/2020 - Sorry I haven't updated in a bit.  My irish setter puppies went to their new homes last weekend and that took a ton of my time.  I still spent a lot of time with the dachshund puppies but didn't do the website.  They are all doing great - we are not going to the playroom every night and learning about new surfaces and interacting with the other dogs.  I also set up an big ex-pen in my living room so they hang out with the family.  That way they get use to loud noises and the busyness of the household.  Starting to see their personalities emerge - all of them are very outgoing and their tails NEVER stop wagging!  We did their first "stacked" pictures tonight - scroll down to see them.  I was really pleased with what I see in the pictures - their heads are beautiful and I really like their fronts for only being 6.5 weeks old.  
2/1/2021 - Puppies are really starting to develop their personalities.  They had a ball playing in the dog room tonight - scroll down for a video of them playing with Simma (Irish Setter).
2/12/2021 - 8.5 week pictures posted.  Babies are starting to go home - hard to see them go but I so appreciate the wonderful people and homes that will cherish these puppies.
RU CH RU JCH RKFV Kinchville Basic Element of Bezazz

US CH RU CH BY CH GE CH RKFV AZ CH Dash N' Doxies Low Suspension

RU CH RU JCH RKFV Mystique Vom Rainerschlossl

RU JCH Kinchville Atlanta

RU CH RU JCH RKFV Storfoten's Wagner

EE CH LV CH RU CH RU JCH RKFV Southwinds Big City Lights ML

Lekoll Bobbi Sharm Ivolga

LV CH RU CH RU JCH Lekoll Bobbi Sharm Paradise

FI CH EE CH RU CH BY CH RU JCH Daks Veg As Martin Tin

RU CH BY CH RU JCH RKFV Lekoll Bobbi Sharm Uhti-Tuhti

Lekoll Bobbi Sharm Fleur De Vie

RU CH RU JCH Daks-Veg-as Yul Brynner

Lekoll Bobbi Sharm Ochevidnoe-Neveroeyatnoe