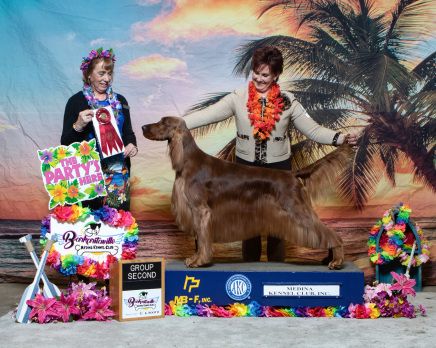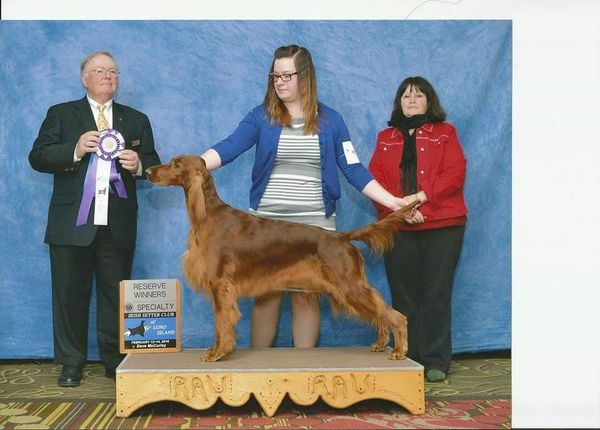 "Joey" is a lovely dog with a lot of substance, nice top line, pretty movement and a lovely temperament.  I saw him in New York this year and really liked him.  He has had some wonderful wins including multiple specialty wins and a Reserve Best in Show!  
"Devon" was the pick bitch out of my Wilson/Rio litter.  She went to a dear friend of mine Lydia Miller, in Pennsylvania.  She finished her championship in stiff competition.  She has a pretty head, nice substance and top line, and is a very clean mover.  I am thrilled that Krista Musil agreed to let us breed to Joey and am so looking forward to these puppies.  Thank you to Lydia for allowing me to whelp this litter.
8/2/19 - Ultrasound done and Devon is pregnant with about 8 puppies.  I will do an xray closer to her due date to get a firm count.  She is due on Aug. 26-28th, 2019.
8/19/19 - Devon was xrayed and the count is 14 puppies!!!!  Holy cow!  So, we have scheduled a c-section on Monday, August 26th at 8 am.  Prayers that all goes well are welcome!!
8/26/19 - We we have 12 puppies!!!  We have 8 girls and 4 boys and all are doing good.  Devon was such a trooper through the c-section and is being such a good mom.  Scroll down for pictures.  So relieved...
9/1/19 - Puppies are growing like weeds!!  I am still supplementing the lime green girl.  She is doing well and gaining weight but she is smaller and gets pushed off the nipple by her bigger siblings. The other 11 are eating on their own doing great.  Devon is a great mom - very attentive.  Puppies got their first nail trim today.  Start doing the puppy stimulating exercises today.
9/18/19 - Puppies are doing fabulous - starting to play with each other and walking in the whelping box.  I had to put the sides up yesterday and one boy already escaped. :)  They are starting to bark and explore.  They can hear now and are starting to come to us when we come in to the room.  So cool to see them develop...
10/14/19  - Puppies are 7 weeks old today!  Time has flown by...they are doing great.  I took their first stacked pictures this week - scroll down to see them.  They will change a lot in the next week or two!!
***Show/performance/pet homes welcome.  Please contact me through this website or at Pam@galewinns,com.
AM/CAN CH. Meadowlark's Classic Touch

CH. Chapell's Treasure Quest

CH. Lunn's Supercalifragilisticexpialidocious

GCHB. Keliaire Just Stranded

CH. Quinniver's Roadrunner