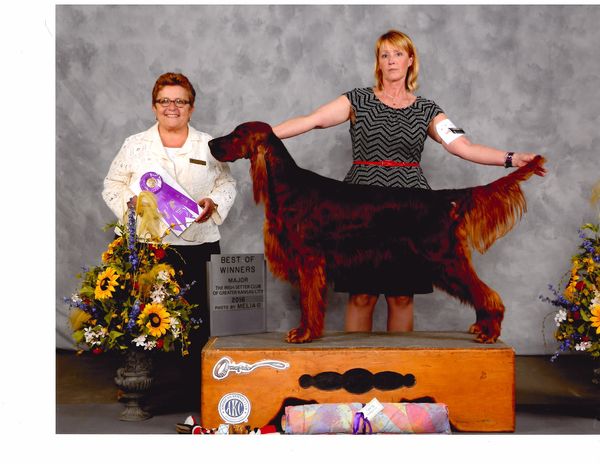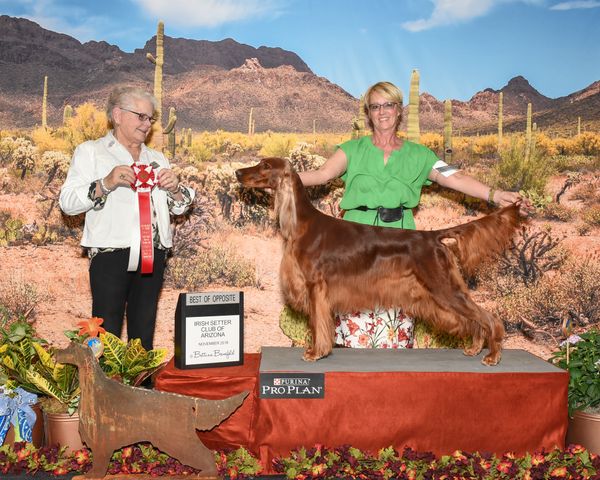 "Brewin" is the most laid back Irish Setter that I have had in years!!  He is so sweet and loving and such as "easy keeper".  He finished his championship easily at 14 months old.  He won the 6-9 month puppy class at his first national and was 3rd in a very large bred-by class at the national the following year.  In fact, his brother Porter (CH. Roclyn's Brewhaha) was reserve winners dog!  Brewin now lives with Shirley Briggs in Oregon and is a certified Therapy Dog.  His temperament was perfect for this and I knew the minute I talked with Shirley that this was Brewin's true calling.  He has such substance and is so conformationally correct that I knew he was the right match for Avery.
"Avery" is our fancy princess!!  She has the sweetest temperament and finished easily, despite being shown very sporadically.  She lives with Tom & Suzy Gerhls in Phoenix, Arizona.  We recently began specialing her and she completed her Grand Champsionship in 2 months!!  She will be brought out again to "special" once she has recovered from motherhood.  Avery has a very nice front assembly and beautiful forechest.  I love her "fanciness" and I think she brings a lot to the table.
Avery is due to come in to season in February 2019 and hopefully we will have puppies in April of 2019.  Show and pet inquiries welcome - please email me at Pam@galewinns.com or through this website.
2/1/19 - Avery is in season!!!
2/7/19 - Avery's progesterone is 1.0.  Will recheck in two days.
2/9/19 - Progesterone is still at 1.0.  Will recheck on Monday.
2/11/19 - Progesterone is 2.2 so she is climbing.
2/13/19 - Progesterone is 4.2 - we are almost there.
2/14/19 - Progesterone is 8.0 so she has ovulated.  We will be breeding on Sat & Sun.
2/16/19 - First breeding done with frozen semen.  It thawed out nicely and all went well.
2/17/19 - Second transcervical insemination done with frozen.  Again, all went well.  Now we cross our fingers and toes and hope that we have puppies in 2 months.  They will be due on April 18th...
3/9/2019 - We ultrasounded Avery and she is definitely pregnant!!!  So excited!!
Ch. Mariah Here's The Thing

CH. Redkings Repeat After Me

AM/INT/UKC CH. Redkings Double Dog Dare

AM/INT/UKC GR CH. Redkings Hot Country Girl ROM