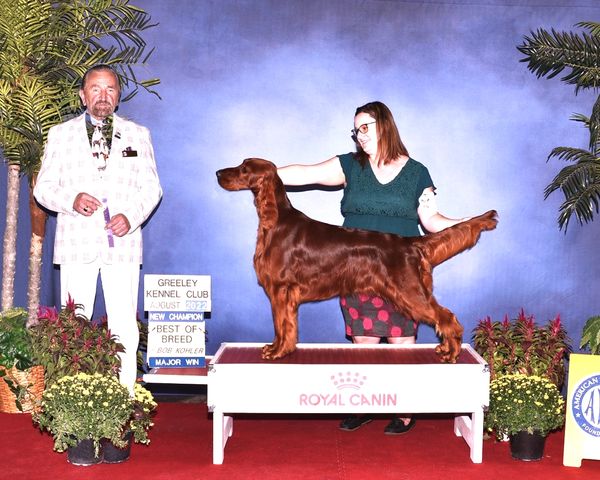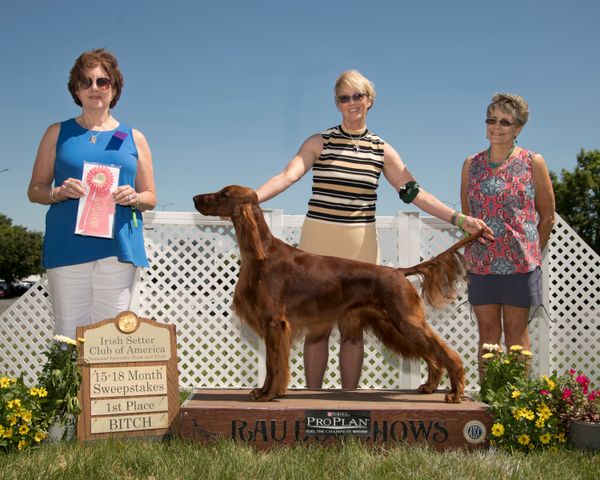 "Ridge" is a young dog that is out of the Finesse/Rake litter.  He has accomplished a lot in his short life so far - he finished his championship easily with 4 majors at 11 months old.  In fact, he went Best of Breed over 12 specials (including Simma!) to finish.  The judge's comment was "bring him back to me when he is older - he is going to be something special"!!  Ridge has a delightful temperament and is wiling to do anything.  He is currently training in agility and the field.  His sire is a Master Hunter Advanced and we think he has even more promise in the field.  He has a lovely front assembly, beautiful head peice, and pretty on his legs (moving).  He has a night straight dark coat and again, has such a wonderful temperament and eager to do any training.  
"Simma" is a once in a lifetime dog.  She finished her championship so easily with 4 majors - the first one at 6 months of age with a Best of Breed to beat 14 specials.  She is only 2 years old and has had some wonderful breed wins and a specialty win already under her belt.  We have shown her sparingly but plan to "special" her once she has her puppies and gets her coat back.  I also train Simma in agility and she is a rock star.   I debuted her at the National and she had 2 qualifiying runs that were lovely - we had a ball!  Her and I are going to have a fun time in the agility ring - she gives me a run for my money!! I can't wait to see what these two beautiful dogs can produce together.
Both parents have all of their health clearances - certificates provided upon request.
09/17/2022 - Simma is in season!
9/23/2022 - Simma's progesterone is 15!!  She is ready to breed.
9/23-25/2022 - Three AI's (artificial insemination) were done successfully.  Our timing was good so now we just "wait" to see if she is pregnant.  She will be due November 22-24 if she is pregnant.  Keep your fingers and toes crossed!!
  Show and pet inquiries welcome - the best way to get a hold of me is to email me at Pam@galewinns.com or through this website.