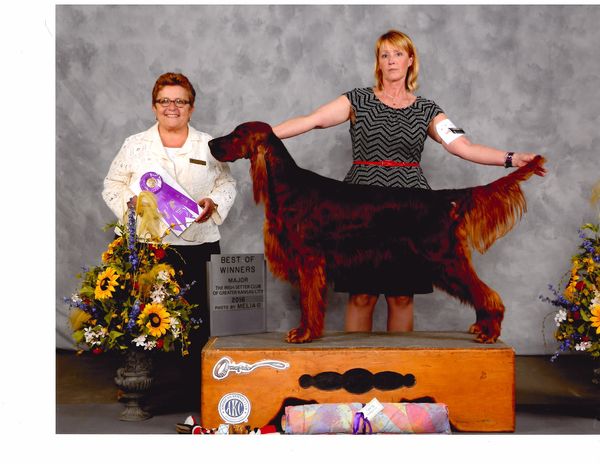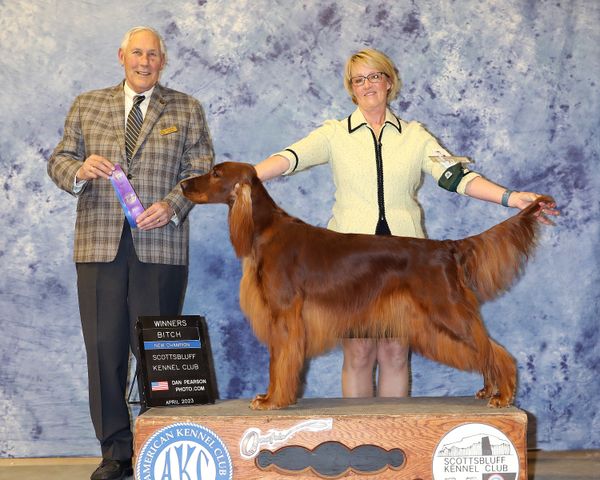 "Brewin" is a beautiful boy who has a wonderful short show career as he was destined to be a phenomenal service dog.  He finished his championship very quickly and placed 3rd in a big bred-by class at the National at 15 months old.  He has a beautiful headpiece and stunning front and moves effortlessly.  He has such a laid back temperament and I knew he would make a wonderful therapy dog.  He lives in Oregon with Shirley Briggs who has certified him as a therapy animal.  He has quite a reputation within the hospital and has his own fan club.  Brewin is now 9 years old so we used frozen semen.
"Dublin" is my stud fee puppy that I took from Kim Lamontagne's litter out of my boy "Bartley".  She finished her championship easily and has such a stunning head.  She has a wonderful temperament and I am so excited to see what her at Brewin can produce.  She finished her championship the day before she came in to season so everything timed out nicely.
4/3/2023 - Dublin is in season!
4/10/2023 - First progesterone done and is 1.68.
4/14/2023 - Progesterone is 7.59 show she has ovulations. 
4/17/2023 - Progesterone is 13.9 so is perfect. TCI (transcervical implant) was done today.  Will repeat tomorrow.
4/18/2023 - Second TCI was done today - all went well. Now we wait!
May 12, 2023 - Ultrasounded Dublin and she is VERY pregnant!!!
Puppies due June 24-26th.  Stay tuned…
**For pet and show inquiries please email me either through this website or Pam@galewinns.com.  
Ch. Mariah Here's The Thing

Keliaire Keepin' A Secret

Redtale Great Balancing Act