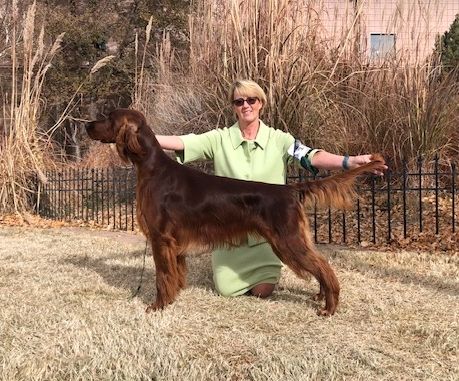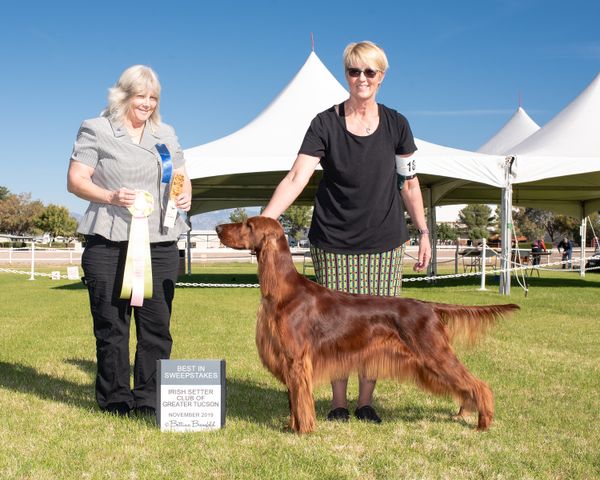 "Picasso" is a young male who is out of my Bode/River litter.  He has a beautiful head piece, great front assembly, and moves like a dream.  I showed and finished his sister Zoom first so am now showing Picasso. He has 11 points - needs one more major to finish.  I am holding him out for the national as I want to show him there in May.  He has a great temperament and loves to do whatever we want him to do.
"Finesse" is such special girl - she finished her championship easily in big competition.  Her and I had so much fun showing.  She then went to the best home ever with my nephew and his wonderful wife.  She is so loved and has the best life with them.  She hunts with my 2 nephews and I get the BEST pictures of her in the field.  This will be her second litter - you can see her first litter on the website.  She produced REALLY nice so I am so excited about this second litter.
12/10/2022 - Finesse is in season!
12/17/2022 - I drove to Lusk, WY to meet my nephews (halfway) to pick up Finesse.
12/19/2022 - First Progesterone is 1.9 so we are still early.
12/21/2022 - Progesterone is 3.0 today so rising but still early.  CSU is closed for Christmas holiday so I can't do any more progesterone testing.  Vet recommends breeding days Sat-Mon.
12/23/2022 - First breeding done with Picasso - we AI'd (artificial insemination) as Finesse wasn't being the nicest to Picasso.
12/24/2022 - Second breeding done today (AI).  All went well.
12/25/2022 - Third breeding done today - all went well.  We can tell than Finesse is going out of season so our timing was perfect!  
12/26/2022 - We drove back to Lusk, WY to get Finesse back to my nephew - she was very glad to see Jeremy and Danielle and the rest of her pack.  Now we wait - keeping fingers and toes crossed that we will be having puppies.  
1/30/2023 - Finesse is definitely pregnant!  So excited!
Puppies will be due Feb. 23-25th.
***For pet and show inquiries please email me either through this website or Pam@galewinns.com.