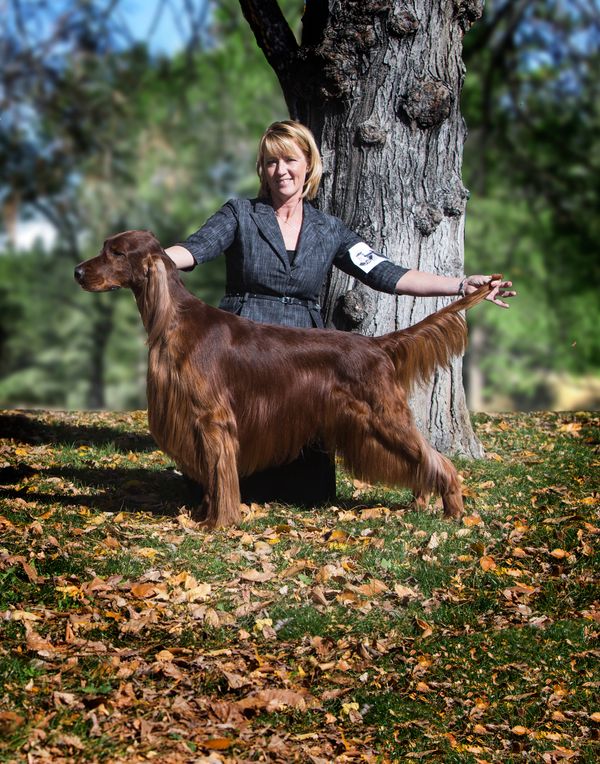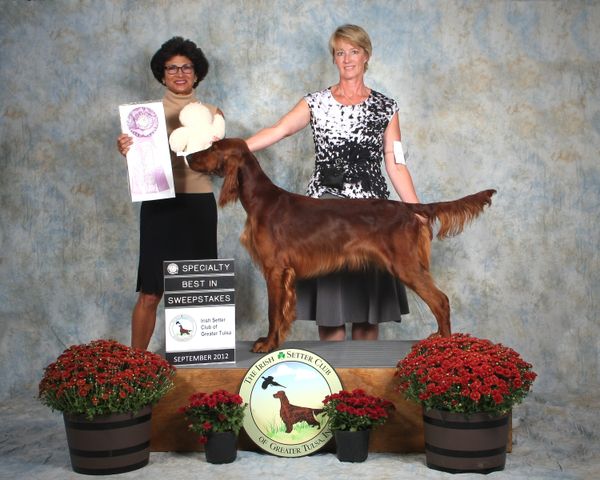 "
TANK
" is my boy that I kept out of the Trent/Rio litter.  He is currently being "specialed" and will hopefully become ranked in the show world.  He has a beautiful head piece, dark eye, nice front angle, and moves beautifully.  He has a dark, straight coat and and pretty dark eye which should compliment Kash nicely.  He is a smart dog who is also doing obedience training with me.  Tank is 4 years old and is in very good health.  He has all of his clearances - his hips are OFA Excellent, Thyroid normal, and PRA clear.
"
KASH
" is my pick girl out of my Connor/Katie litter. She has a pretty headpiece and nice front angle.  However, her best attribute is her temperament!!!  She is smart and gets along with ALL other dogs.  Her sire is a master hunter so there is a strong hunting instinct - two of her littermates are fabulous in the field.  Kash truly has the temperament that I strive for and therefore I decided to breed her.  She also is very healthy and has her health clearances.
Please email or call me if you are interested in a show or pet puppy.  These puppies will be ready to go to their new homes in the middle to end of July 2016.
Kash
has been bred naturally on 3/16, 3/18, 3/20 & 3/22/16.
4/11/16
- I palpated
Kash
today and I could definately feel puppies!!!  I ultrasounded her and she is FULL of puppies!!  Yay!  She is due May 18-20th.
4/19/16

- Kash
is doing great - getting bigger!
5/2/16
- I ultrasounded
Kash
today just to see the puppies - I can see spines and skulls now.  She is definately "full of puppies" so I am expecting a big litter.  She is doing great - happy and getting bigger!!
5/10/16
- Xray done on
Kash
today to determine how many puppies are in there - xray shows 11-12!!!  I knew we had a big litter coming!!  Scroll down to see the xray picture.
5/18/16
-
Babies are here!!!
Kash
started into labor about 6 pm - it was nice of her to wait until I got off of work!! We had the first puppy at 10:45 pm - it was a boy and nursed almost immediately.  Almost immediately we had the second puppy - a girl.  She, too, nursed right away.  Waited about another hour - the third puppy came (girl).  Then we waited almost 2 hours for the 4th - this was in the middle of the night and seemed like it was days!!  After that, the puppies came about every 45 minutes with the last puppy born at 7 am.  We had 11 puppies total - unfortunately the last two puppies were not alive when then were born.  I suspect they were just in there too long - not uncommon with a big litter.  Heart breaking none-the-less.  However, we have 9 beautiful and vigorous babies - 5 girls and 4 boys!!!
5/20/16
-
Kash
and babies are doing great!  All 9 puppies have gained weight and are nursing great!  They are a noisy bunch...and moving all over the whelping box. Scroll down for pictures.  I will try to post pictures every couple of days.
5/25/16
- Puppies and
Kash
continue to do fabulous - they are getting big!!  They got their first nail trim last night and new collars already!!  
Kash
is still very protective of them but it is getting easier to get her to go outside - she sure doesn't want to leave them for long.  I am leaving for the irish setter national in San Diego today - very hard to leave my babies.  But I know that my husband and Coltyn will take good care of them.  Nancy (Kash's owner) comes over every night for a visit and Rachel (my puppy sitter extraordinaire) is with them during the day. They will be well taken care of...but I will miss them and worry about them none-the-less!!
5/26/16
- I left for the irish setter national today in San Diego.  I have left the puppies with my husband....it is a big job but he will do fabulously with them!!!  My wonderful puppy sittter Rachel, will be here every day and Nancy,
Kash's
owner will be here every evening to help to socialize and take care of puppies.  Thank God for my "village"!!! 
6/5/16
- We are home from the National!!!!  I so missed the babies - boy, did they grow while I was gone!!!  They all have their eyes open and are walking around some now.  They are barking some which is just the cutest thing ever!!  
6/8/16
- Puppies are 3 weeks old today!!!  They are the cutest chubby puppies!!  They are starting to interact with each other and play now.  They nurse from
Kash
and empty her in 3 minutes - no joke!!  They will be starting on solid food soon - I hope I can get them through until next Wednesday!!  Scroll down for some new pictures.
6/13/16
- The puppies are getting so big - had to start them a bit early on solid food.  Blended up some puppy food and made a mush - they scarfed it up so fast!!!  They made a heck of a mess but sure was fun to watch.
6/22/16
- Took the first stacked pictures tonight - scroll down for the pictures.  They did really well - I am so proud of them.  They are learning to go out the doggy door and starting to potty train themselves.  Sure enjoying watching them grown up.
Ch. Meadowlark's Irish Monarch ROM

CH. Saxony's Southern Nights ROM

Ch. Rusticwood's Running Mate ROM

CH. Quinniver's Roadrunner

CH. Vermillion's HeavenCan Wait

CH. Lunn's Picture Me Pink