CH. Galewinns Kaycees Sea Man ML
"Frankie"

CH. Galewinns Kaycees Sea Man ML

(CH. Harbormyst Beach Boy ML x CH. Kaycees Galewinns Pucker UP MLD ROMX)

Whelped 1/3/2014  HP467265/02

Sherry (Kaycees Dachshunds) and I had two litters that were 3 days apart.  My litter was a singleton puppy....so I raised this boy out of Sherry's litter with my little girl Jinx (see page on website).  Frankie has the most delightful temperament - loves every person and every dog.  He has started his show career at 9 months and has two points. He is catching on quickly and is really fun in the ring.
Frankie easily finished his championship and his grand championship.  He stayed home for about 2 years and then we brought him out as a special.  

Frankie is owned by Diane Kulesa and is co-owned by Sherry Ceplius and myself. 
12/14/2018 - Frankie wins the DCA specialty in Orlando, Florida under j. Jeffrey Pepper!!  There were 67 dachshunds entered with over 40 specials.  We were so thrilled.  Thanks to Melissa Mato of MGM Handling who handled him to this win.
12/15/18 - Frankie goes Select Dog at the Royal Canin National Championship!  What a weekend for him - so proud!
1/5/18 - Frankie wins the breed in Palm Springs under j.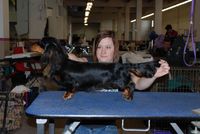 BISS. CH. Sleepytime's Jubilation ML

CH. Sleepytime's Silver Spangle ML

CH. Packer's Silver Smith ML

CH. Sleepytime's Merci Glenavan ML ROMX

CH. Sleepytime's Regardless ML

CH. Sleepytime's Figure of Speech ML

CH. Sleepytime's Locket ML

CH. Sleepytime's Free Spirit ML

CH. Sleepytime's Merci Glenavan ML ROMX

Packers Cherry Creek Julius