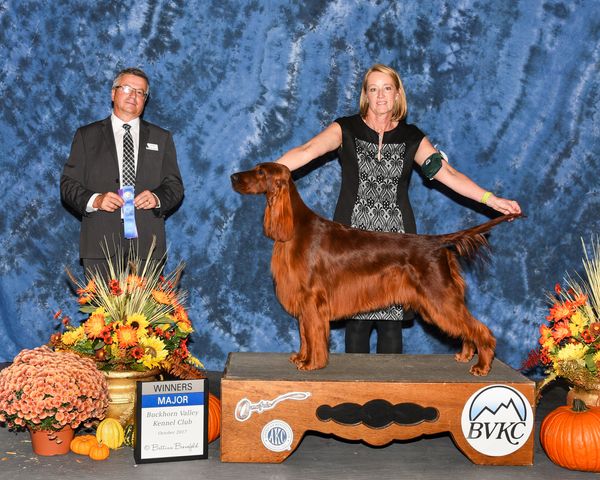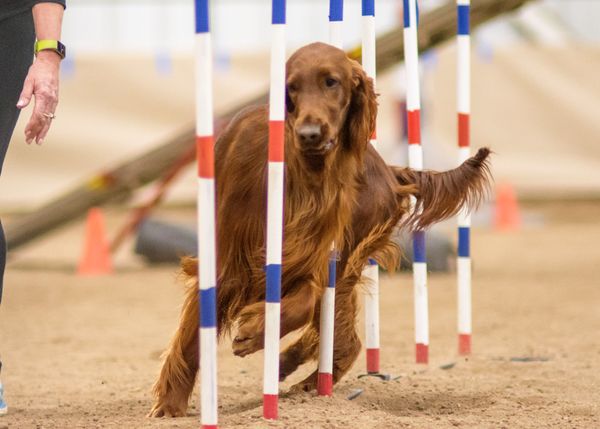 "Deni"

GCH. CH. Galewinns RedTale Fun Is Good NA NAJ

(BISS GCH. Galewinns Ball of Fire x CH. Redtale True Love)

Whelped 1/11/2016

SR919022/02     MC#956000010030555 CERF Normal OFA Hips Good OFA Elbows Normal 

"Deni" is my stud fee puppy from the Bartley/Buttercup litter that Debbie Murray (Redtale Irish Setters) and I bred.  This was a repeat breeding.  I LOVED the puppies out of the first litter and decided that I would take one from the second breeding.  Deni has such a darling temperament and meshes very well with my other dogs.  She has already been to an obedience seminar the first weekend that I had her and she did fabulous!!!

Watch for her in the show ring ...and the agility ring....and the obedience ring!!

#1 - 3/8/16            Season 1/11/16    9/17  6/18   1/23/19 11/20/19  8/2020  CanIflu#1-7/16/17  Rab-11/24/2020

8/16 - Deni is shown for the first time at the Greeley, Colorado Irish Setter specialties.  She won her class three of the 4 days - I was really proud of her at her first show!

11/17/16 - Deni wins Best In Sweeps at the Greater Tuscon Irish Setter Club specialty.  This was only her second time in the ring!  Thanks to Stacey Susan who showed her as I was showing her full sister Dixie.
1/25/17 - Deni was accidentally bred to "Connor" (Ch. Rosette's Come Fly With Me.  I had him at my house to breed to my girl PJ and of course, he bred Deni.  This was her first season...
3/22/17 - Deni has her 12 puppies!!  She has 8 girls and 4 boys.  She whelped them beautifully.
10/29/17 - Deni is finally back in the show ring and wins her first major under j. Micheal Chaloux.  Her sire, Bartley, was BOB today as well.  Scroll down to see her win picture.
11/17 - Deni wins back to back majors at the New Mexico Sporting Dog show under j. Jill Warren and Shelley Marx.  What a great weekend!
11/17 - Deni goes WB/BOW the first day at the Pueblo show.  She has now finished her championship!  Wow - that was fast!
2/18 - Deni competes in her first agility trial - she qualified on both runs her first day!!!  The next day she didn't qualify but had two really nice runs.  Scroll down for a picture.  We had so much fun!!!
3/18/18 - Deni was in her second AKC agility trial.  She did again - she double q'd on Sunday!!  So proud of her! She now needs one leg in standard and one leg in jumpers to get her novice agility titiles.
3/26/18 - We had Deni's hips and elbows xrayed and thyroid testing done - awaiting OFA evaluation.  Scroll down to see her xray pics - results should be very good!
4/22/18 - Deni finished her Standard Novice Agility title!!!  We are so proud - this is our first agility title!!  Hopefully we have many more agility titles to come.  I have learned so much about training a dog - I feel so blessed to be having these agility experiences.  Now we move up to open and have to "play with the big boys!!".  lol  P.S. - Deni's hips came back "OFA good" and her elbows are normal.  
9/15 & 16/18 - We went to Farmington, Utah to the shows.  Deni was BOS on Saturday under j. Mrs Joan Luna Liebes.  She won the breed on Sunday for a GCH major under j. Dr Eric Liebes.  She now has 21 points toward her grand championship in VERY limited showing.
9/21 & 22/2018 - Deni and I went to Casper, Wyoming for an agility trial. We had a blast!  She qualified 4 out of 5 runs under j. David Nauer.  She finished her Novice Jumpers Title (NAJ) and got a qualifying run in open standard and open jumpers.  She also qualified in Novice Fast  - this is the first time that we have run in Fast.  I thoroughly enjoyed the company of the agility group there and had a smile on my face the entire drive home.
1/19 & 1/20/19 - Deni and I did an agility trial in Longmont.  She got her second qualifying run in open Standard. We had such a fun time.
 2/15-2/19 - Deni was shown at the Denver shows (Plum Creek & Colorado Kennel Club shows).  Out of 4 shows she was BOS 3 days and Select Bitch one day.  So, she now has her Grand Championship with VERY limited showing.  I have to say though - when we walked in the conformation building she was definitely bummed that it wasn't agility!  She showed beautifully for me but I know she would have rather been doing agility.
11/20/19 - Deni is in season!!!!  She will be bred to Tank...stay tuned!
CH. Quinniver's Roadrunner

CH. Courtwood Spin Off, ROM

Ch. Courtwood Inn Keeper ROM