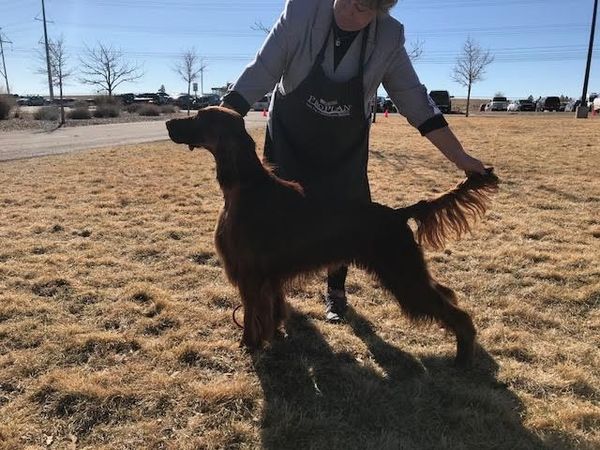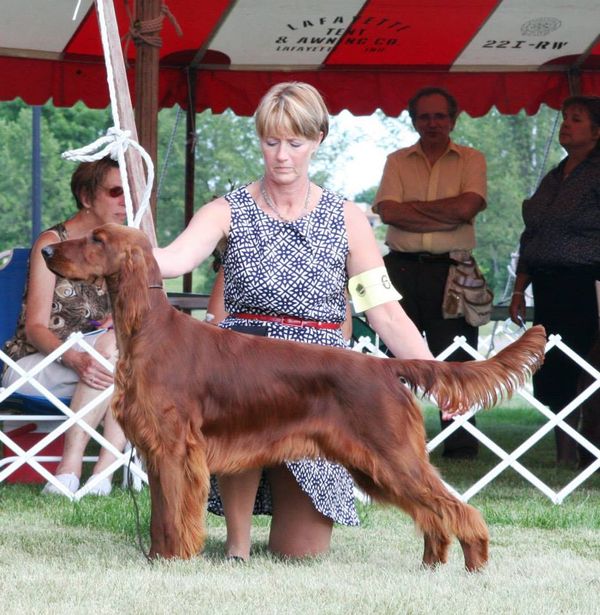 Ranger is a young dog that Kim LaMontagne (of Keliaire Irish Setters) and I bred.  His mother is Stevie who is out of my male Tank.  She is a wonderful girl with a fabulous temperament.  We bred her to CH. Roclyn's Killian's Red to produce Ranger.  We had previously bred to Killian and just LOVED the temperaments.  He is a lovely dog with a nice temperament and is a nice match for PJ. This is a crappy picture of Ranger - it was taken at a show recently and the lighting was bad.  I will try to get a better picture of him so that you can see his lovely head and conformation.
PJ is a wonderful temperamented and beautiful irish setter.  She finished her championship easily at 16 months old.  We have been training in agility and she is very close to being able to run in her first trial.  She is also working on her grand championship - we had to put this off for a while as she was having puppies.  This will be PJ's last litter.  I have loved what she has produced - you can see her other litters on my website.  She is a very special girl and, after this final litter, she will spend the rest of her days with me running in agility.  
I expect that PJ will go into season in April of 2018 with puppies due 2 months after that.  Show and pet puppy inquiries are welcome.  It is best to email me at Pam@galewinns.com or through this website.
5/28/18 - Puppies are here!!!  We have 2 girls and 5 boys.  All are doing great - very healthy and vigorous.  PJ is being a fabulous mother!  Scroll down for pictures.
6/18/18 - Puppies are 4 weeks old already!!!  Scroll down for some updated pictures.  They are eating food now - started yesterday with puppy "mush" and they took to it great!  PJ loves that I feed them because she gets to eat the leftovers!  I moved them out of the whelping box yesterday into the kennel - they were a bit overwhelmed at first with all of the room they had but they are adapting well.  They are now loving the extra room and getting to use their legs more.  
6/26/18 - Babies are 5 weeks old.  They are eating food now and getting it all over the place! lol  They get to go outside and enjoy the grass twice a day.  They are still nursing but PJ is weaning them.  They are so cute - tails are wagging and they now recognize my voice.  I will start with stacked pictures next week.  Stay tuned...they are really pretty babies!
7/7/18 - Puppies will be 6 weeks old on Monday.  They are going in and out of the doggy door with no problems now!  I have them going out in to the puppy yard to run and explore.  I put puppy agility equipment out there tonight for them to play with.  It was amazing to see how quickly they went over the teeter totter.  I will try to take some video and post soon.  We did their first stacked pictures today - please scroll down to see them.  Remember...they are ONLY 6 weeks old and will change a lot in the next few weeks!! But I have to say - they are lovely puppies!
7/15/18 - We took 7 week old pictures today.  So proud of them - they stacked up on the table so nicely.  Shea brought over two of our dachshund puppies and the 9 puppies had a ball playing together.  They are getting more adventurous and are getting out in my big puppy yard at least twice a day.  I have never had a litter of puppies that use the entire yard as it is a really big yard.  However, these puppies are constantly exploring and are using the entire yard.  They are even going on to my adult agility equipment so I had to block some of the equipment!!!
7/20/18 - Pictures taken again tonight - scroll down to see them.  Hard to believe how much they have grown in the past week!  I groomed the puppies for the first time - however I haven't gotten to the green boy or the pink girl yet.  That is scheduled for tomorrow.  So...forgive the fuzzy whiskers and hair on those two puppies.  Not fair to have them looking fuzzy when the others are "clean cut". lol  Such pretty puppies and I just love their temperaments.
CH. Quinniver's Roadrunner