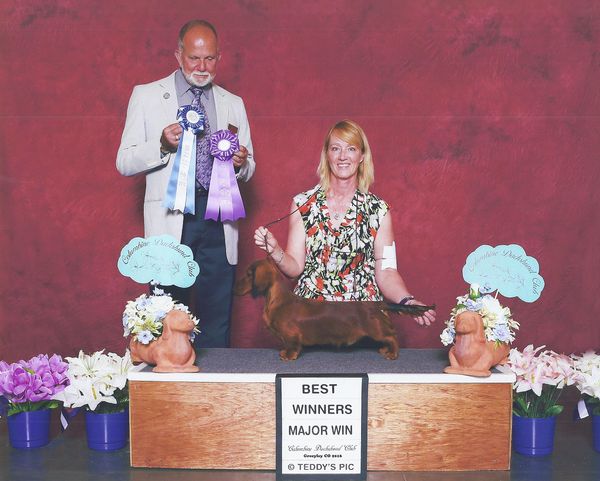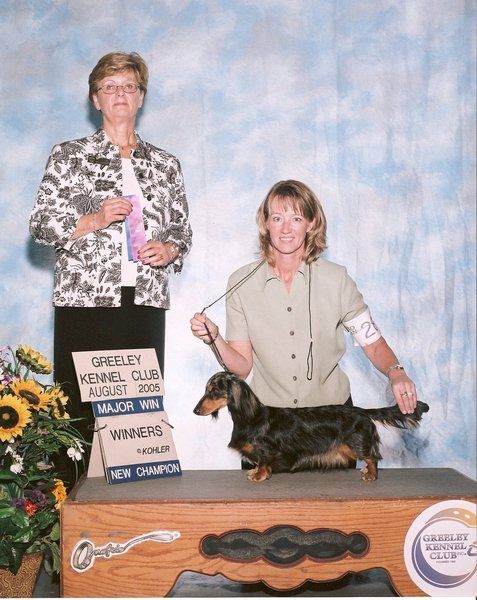 "Digger" is a dog that I imported from Finland.  Pauline Artiola bred him and was kind enough to send him to the US to join the Galewinns gang.  He has the most wonderfl temperament - there isn't any dog or human that he doesn't love.  He is bold and inquisitive and just enjoys life.  He has a beautiful headpiece, a very nice front, and lovely movement.  He has a great solid topline.  He is also homozygous red. You can see more pictues of Digger on this website - just click on "Dachshund Males" and click on his name.

"Jinx" is my second singleton girl out of Jersey.  She is a very independent and intelligent dachshund.  She is a black and tan dapple.  She has a lovely front and moves very soundly.  She has a nice topline.  She has one of those personalities that you just can't help loving her. She lives with my daughter and is her house pet - along with her mother Jersey.  My daughter will miss her dearly when she will be with me to have the puppies.

Inquiries for pet or show puppies welcome.  Best way to contact me is via email or through this website.

3/8/17 - Jinx had her puppies!!! We have 2 boys and 1 girl - all reds!!  The blue boy (collar color) weighed 8.9 oz, the green boy weighed 6.9 oz, and the orange girl weighed 6.4 oz!  They all came out nursing!!  Jinx is being a geat mom.....after the initial shock! lol Scroll down for some pictures of the little darlings.

3/12/17 - The babies continue to thrive and gain weight.  They are great nursers and Jinx is the best mom ever! I am so pleased with the litter.  Jinx is making things easy for me...which is great considering I also have an irish setter litter that are 5 days older. Scroll down for more pictures.

3/24/17 - Puppies are 16 days old now.  They are very fat and content....so fat that they don't want to move and sleep all day!  So, i started putting them on the floor and making them crawl.  So funny - the first time I did this they crawled about a foot and them slept for 2 hours.  haha  Jinx is taking such good care of them. Scroll down for some pictures and a video.

3/30/17 - Puppies are now 22 days old.  Getting bigger and bolder.  They love to sleep so I am not taking them out of the whelping box to give them more exposure.  Starting to expose them to loud sounds which they are handling well.  will try and get them outside soon - however our weather is not cooperating as we are suppose to have snow tonight.  Jinx is doing great - she is such an independent dog!! Scroll down for a new video and a few pictures.

4/4/17 - The puppies are doing fabulous!  They are barking now and recognize me when I come in to the room.  I put them in the living room last night in an ex pen where they hear all of the noises of people, tv, other dogs, etc.  I want them to get socialized to the noises and action of a normal household.  I think they enjoyed the new surroundings - but boy were they tired when I put them to bed!! Still nursing and Jinx is doing a good job with them.  Will start them on puppy mush next week. Oh....and great news - Digger (the sire) finished his championship this weekend with his second major.  The next day he won the breed!!!

4/11/17 - The babies are doing fabulous - really starting to play with each other now.  They recognize me and wag their tails and bark.  Digger LOVES to play with them...and Jinx doesn't mind a bit.  I will try to get a video of them playing with Digger in the next few days. They are starting to wean now and on "real" food.  

4/21/17 - I can't believe how much the puppies have changed in the past 2 weeks!!  They are running all over now - they love to get out of their expen and "cruise the house".  Came home from work today and found two of them out and running around the living room.  No fear!!  The love my singleton irish setter puppy and hang out with her a lot.  Scroll down for their first stacked pictures.
RU CH RU JCH RKFV Kinchville Basic Element of Bezazz

US CH RU CH BY CH GE CH RKFV AZ CH Dash N' Doxies Low Suspension

RU CH RU JCH RKFV Mystique Vom Rainerschlossl

RU JCH Kinchville Atlanta

RU CH RU JCH RKFV Storfoten's Wagner

EE CH LV CH RU CH RU JCH RKFV Southwinds Big City Lights ML

Lekoll Bobbi Sharm Ivolga

LV CH RU CH RU JCH Lekoll Bobbi Sharm Paradise

FI CH EE CH RU CH BY CH RU JCH Daks Veg As Martin Tin

RU CH BY CH RU JCH RKFV Lekoll Bobbi Sharm Uhti-Tuhti

Lekoll Bobbi Sharm Fleur De Vie

RU CH RU JCH Daks-Veg-as Yul Brynner

Lekoll Bobbi Sharm Ochevidnoe-Neveroeyatnoe

BISS. CH. Sleepytime's Jubilation ML

CH. Sleepytime's Silver Spangle ML

CH. Sleepytime's Regardless ML

CH. Sleepytime's Figure of Speech ML

CH. Sleepytime's Free Spirit ML