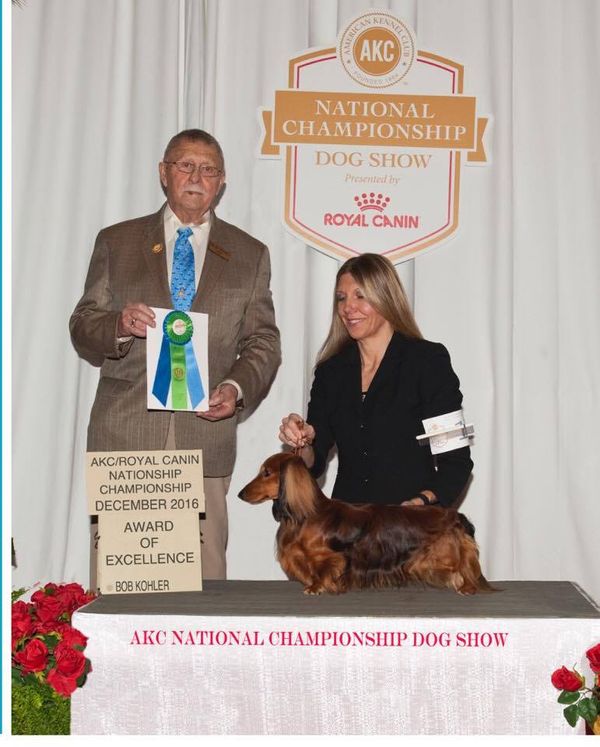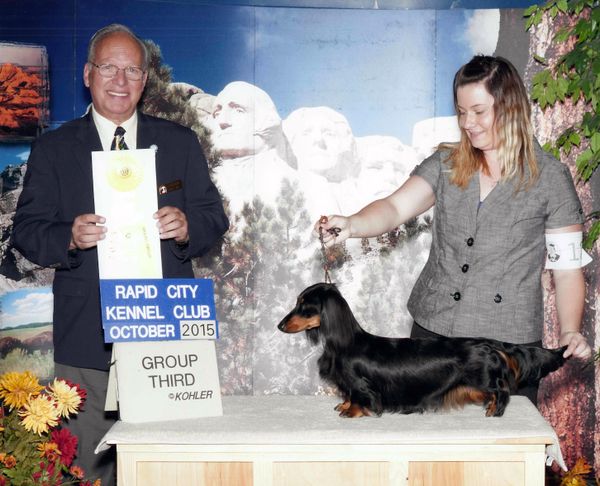 GCHB Kenmar's Passport to Scanpoint "Sarge" is a son of Ehren (CH. Burdach's Brown Eyed Handsome Man).  I attempted to breed to Ehren but didn't get puppies.  I also attempted to breed to an Ehren son with frozen semen and didn't get any puppies.  So, when I found Sarge and he could breed naturally it was a "no brainer".  I am so excited to see what we get - hopefully we get some beautiful red and black & tan puppies!!!
GCH. Galewinns Kaycees Partner In Crime ML "Caper" is one of my favorite dachshunds of all time!  She has the best temperament ever and is a beautiful girl.  Very showy, pretty head, and moves like a dream.  She has produced very nicely in her past litters - please see "Past Dachshund Litters" on this website to see her puppies.  Can't wait to see what we get with Sarge!!
7/10/17 - Caper in season!!
7/18/17 - 1st progesterone done and is 1.9 so she is right on schedule.  I am flying to Florida with her on Friday, 7/21/17 to do natural breedings with Sarge.  Thanks to Marianne McCullough for of Kenmar Dachshunds her gracious hospitality and inviting Caper and I into her home.  Stay tuned!/
7/21-23/17 - I flew to Fort Lauderdale and spend 3 days with Sarge's breeder, Marianne McCullough.  We got 4 natural breedings!!! Puppies should be due Sept.18-20, 2017.
8/8/17 - I palpated puppies last night on Caper!!!  So, she is pregnant.  Can't wait!
9/14/17 - I had Caper xrayed today and she has 3 puppies.  All of them look to be good sized.  Fingers crossed for an easy whelping!!
9/18/17 - Caper's temperature dropped to 98.4 this morning - won't be too long and we will be having puppies!
CH. Burdachs Brown Eyed Handome Man ML ROMX

Ch. Hundelben Victoria O'Sonata ML ROMX

CH. Rose Farms Son of Trigger ML

CH. Rose Farms Molly Malone ML

CH. Rose Farms Working for Peanuts ML

CH. Hundelben Diva O'Sonata SL

BISS. CH. Sleepytime's Jubilation ML

CH. Sleepytime's Silver Spangle ML

CH. Sleepytime's Regardless ML

CH. Sleepytime's Figure of Speech ML

CH. Sleepytime's Free Spirit ML