"Mooch"
(CH. Original Be-Long to Galewinns x Galewinns Piazza Tres Vie)
Whelped 12/15/2020
HP616147/02
1st 5/1 - 2/8/2021 2nd 5/1 - 3/17/2021 3rd 5/1 - 4/21/2021  MC#956000015065732
"Mooch" was the only girl in the Digger/Trevi Litter.  I really like this litter - it was a line breeding on the Russian side of this pedigree which I was very fortunate to be able to do being in Colorado!!  You can see the nice conformation from the sire and some of the fanciness of the dam.  I am anxious to get Mooch in to the ring!
Mooch is also training in agility - she is quite the little running machine.  We are having a ball.
10/16/2021 - Mooch wins a 4 point major at the Cheyenne Kennel club under j. Denise Flaim.  So proud of her attitude in the ring.
10/22/2021 - Mooch goes Winners Bitch for 2 points under j. Mrs Denise Arlynne Ross.  She is starting to mature...
2/6 & 2/7/2022 - Mooch goes Best Of Winners for 2 points on Saturday under j. Joanne Buehler.  She goes BOW on Sunday for 1 point under j.     .  She really showed nicely and is getting the hang of the ring.  She now has 9 points and a major.
4/8/2022 - Mooch goes Winners Bitch and Best of Opposite today under. j. Ann Roth for another major (3 points).  So proud of her - she is showing great.  She now has 11 points.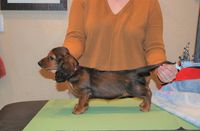 RU CH RU JCH RKFV Kinchville Basic Element of Bezazz

US CH RU CH BY CH GE CH RKFV AZ CH Dash N' Doxies Low Suspension

RU CH RU JCH RKFV Mystique Vom Rainerschlossl

RU JCH Kinchville Atlanta

RU CH RU JCH RKFV Storfoten's Wagner

EE CH LV CH RU CH RU JCH RKFV Southwinds Big City Lights ML

Lekoll Bobbi Sharm Ivolga

LV CH RU CH RU JCH Lekoll Bobbi Sharm Paradise

FI CH EE CH RU CH BY CH RU JCH Daks Veg As Martin Tin

RU CH BY CH RU JCH RKFV Lekoll Bobbi Sharm Uhti-Tuhti

Lekoll Bobbi Sharm Fleur De Vie

RU CH RU JCH Daks-Veg-as Yul Brynner

Lekoll Bobbi Sharm Ochevidnoe-Neveroeyatnoe