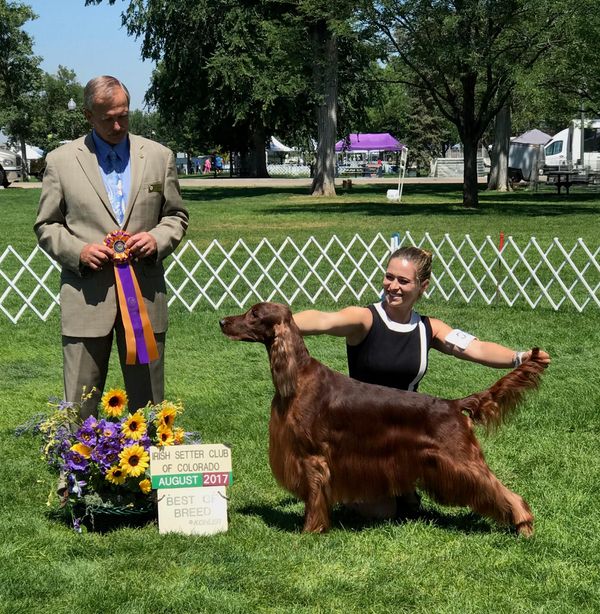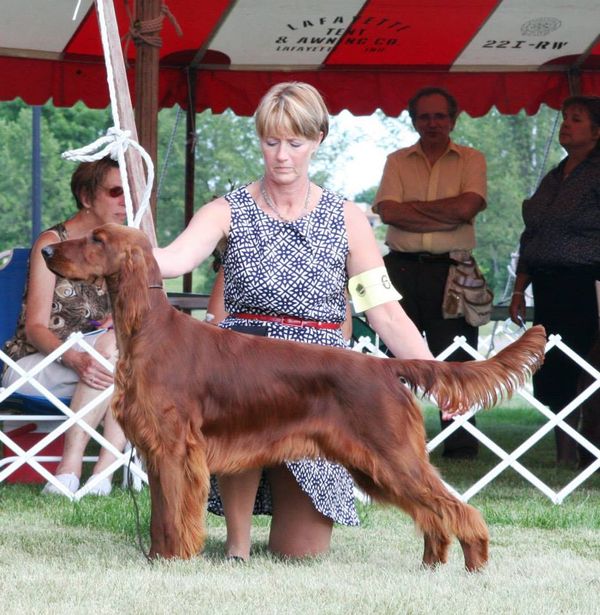 GCHB. Galewinns Rio Bravo "Cameron" is a litter mate to my boy Tank. He has had a lovely show career with some exceptional breed wins. He just won his first specialty win in Greeley, Colorado at the Irish Setter Club of Colorado show. It was a huge entry and so fun to see him take the Breed. He has a wonderful temperament - very much like his brother Tank. He lives and is owned by Suzy and Tom Gerhls in Phoenix, Arizona.
CH. Galewinns Bananas & Pajamas "PJ" is the girl that I kept out of my Wilson/Rio litter (you can see the litter on the website - just click on "Past Irish Setter Litters").  I love her bone and her substance and she has such a beautiful front including front angle and forechest. She is balanced and moves very nicely.  She has a phenomenal temperament and gets along with all other dogs and LOVES people/children.  She finished her championship easily and we are now training in agility.  I hope to start competing with her in the agility ring in 2018.
8/9/17 - PJ is in season!!!
8/15/17 - First progesterone done - it is 0.2 we we are still early.
8/19/17 - Progesterone done today is still low at 0.3.  Will recheck on Tuesday.
8/22/17 - PJ's progesterone is 15.6 - holy cow!!!  I sure did not expect this sudden of a rise.  Time to breed her!!
8/23/17 - First breeding done - we got a natural breeding which is always a relief.  Thanks so much to Suzy for driving Cameron to  meet PJ!!
8/24/17 - Second breeding done!
8/25/17 - Third breeding done!
8/26/17 - Fourth and final breeding done!!  I drove to Santa Fe today to meet Suzy and return Cameron.  He went home a happy dog!!
8/27/17 - Returned from Sante Fe today.  Thanks so much to Suzy for being willing to bring Cameron to me on such short notice and then driving to Santa Fe to pick him up.  I truly appreciate your efforts!!  
9/11/17 - I palpated PJ and she is DEFINATELY pregnant!!!  Can't wait to see how many - it feels like a "bigger" sized litter.
10/19/17 - We xrayed PJ today - she has 10+ puppies in there!!  So excited - she is due next week! Scroll down for her xray - see if you can count the puppies.
10/24/17 - The puppies are here!!!  We have 9 - 4 boys and 5 girls and all are healthy and vigorous.  PJ was amazing - she whelped them beautifully and is being a great mom.  The first puppy was born at 11:30am  and the last was born at 6pm.  So nice of her to do this during daylight hours!!!  Scroll down for some pictures of the beautiful brood.
10/26/17 - I lost two of the puppies - one boy and one girl.  Just broke my heart...sometimes mother nature can be tough.  However, the other 7 are doing great.  Thank heavens!  PJ is a great mom and is keeping a close eye on them.
10/28/17 - The babies are 4 days old and doing great - active strong nursers and gaining weight nicely.  Please scroll down for a video of the little darlings. 
11/6/17 -  The babies are getting bigger everyday - I have had to change their yarn collars twice already!  Eyes are starting to open.  See the new pictures and video below.
11/16/17 - The babies turned 3 weeks old yesterday.  They are up and walking - even barking when they hear my voice!  PJ is working hard to keep them all fat and happy - won't be long and I will have to start them on food.  I trimmed up their nails last night, put new yarn collars on them, and listened to their hearts - all sounded great!  they are playing with each other and starting to play with toys.  I love this age because they start to figure out that humans are wonderful.  Scroll down for pictures - I am sorry about the lack of quality in the pictures but I am having to use my phone.  My good camera is having issues - hoping to get it in to the shop this weekend. Enjoy the puppy breath...I sure am!
11/24/17 - Well, the puppies got moved to their "new digs" today.  I moved them from my upstairs bedroom into my basement.  I have indoor/outdoor runs there and they will have SO much more room to run and play.  The other dogs are in the kennels during the day while I am at work so they will get use to them as well.  In the evenings I let the puppies out to run my unfinished basement.  I have created a "puppy playroom" which has different surfaces to run on, puppy agility equipment to play on, and a lot of room to run.  It is our evening routine to let them out to play for about an hour (or until they fall asleep!).  I have so much fun watching them explore - I am so impressed at how brave they are.  The LOVE my teeter - always amazes me how quickly they learn to go over it.  Scroll down for some pictures.
11/28/17 - The puppies are 5 weeks old today!!!  Boy does time fly!  Shea helped me to take stacked pictures of the babies tonight.  They stacked really well and I am so impressed with how pretty these puppies are.  Scroll down to see the little darlings.
12/5/17 - Puppies are 6 weeks today.  New 6 week stacked pictures are posted.  The puppies are eating great and growing like weeks.  They are really enjoying the play yard in the basement - they now start whining when they hear me come home from work.  They want "let out" of the kennel to run the basement.  I am so enjoying them!  They are all very pretty movers.  Scroll down for the 6 week pictures.
Email is the best way to contact me at Pam@galewinns.com.
Ch. Meadowlark's Irish Monarch ROM

CH. Saxony's Southern Nights ROM

Ch. Rusticwood's Running Mate ROM

CH. Quinniver's Roadrunner

CH. Quinniver's Roadrunner