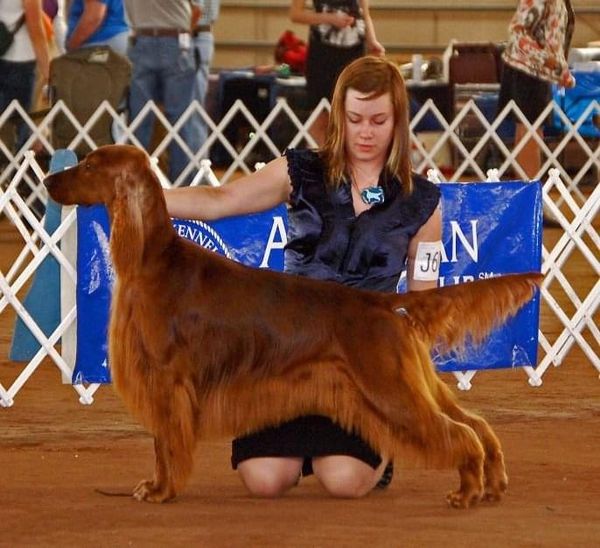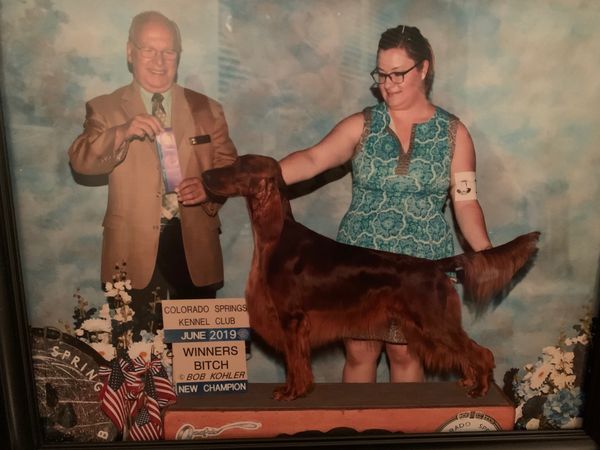 "Bode" is such a special boy - he is my only boy that I have out of my boy Bravo (you can see Bravo and Bode on this website).  He has such a wonderful temperament and is such a pretty mover.  Him and I did hunt tests together and he taught me so much.  He gets along with every dog and is so loyal to his people.  Truly a very special boy.
"River" was the only puppy in her litter of 8 that I was go8/8ing to put in to a pet home. Then, my dear friend and puppy sitter Rachel said to me "I have to have her".  Well I was surprised but said "of course" but can I show her?  She easily agreed and it was such a fun ride!  She finished her championship easily - almost undefeated!  She won the 6-9 puppy class at the National at 6 months and 1 day old!!!  She has a fun and easy going temperament and is an easy dog to live with.  
1/28/2021 - River is in season.
2/5/2021 - First progesterone done and is 0.3 - low as expected.
2/8/2021 - Second progesterone is 0.439 - so  rising but still low.
2/11/2021 - Third progesterone is 1.62 so starting to rise.
2/13/2021 - Fourth progesterone is 3.12 so we are getting close to ovulation.
2/16/2021 - Fifth progesterone is 11.1 so she ovulated yesterday.  We will breed her on Wednesday.
2/17/2021 - First transcervical implant done using frozen semen and went great!  The semen thawed and was very good so I am so pleased.
2/18/2021 - Second transcervical implant (TCI) done today and went perfect.  Semen was good and River was a champ.  Conditions were prefect so very hopeful that we will be having puppies.  River will be due April 17-19th!!
3/18/2021 - I ultrasounded River today and she is definitely pregnant!!!  You can't really get a count from an ultrasound - it is yes or no as far as are they pregnant.  However, if I had to guess I am going to say 8.  So excited!!!
4/18/2021 - Puppies are here!!!  We have 3 girls and 1 boy and all are doing good!  River started labor about 5:30 this morning - first puppy at 7:30 am and last puppy at 10 am.  Not bad - during the day which was great!!! River is doing very well.  At first she wasn't sure what the little things were but it getting more attached by the hour.  Scroll down for  pictures.
4/25/2021 - Puppies are all doing great!  All are over a pound now.  I stopped weighing them because they wiggle out of the scale bowl now.  That is always the sign I use that we are good and they don't need weighed daily.  lol  They got their first nail trim today.  They are all over a pound now - the boy is 24 ounces!!  River is a great mom.  The weather was so nice today so she got out and ran and played ball.  She still keeps a close eye on them but likes to get some fresh air. Scroll down for some pictures.  I do the "Puppy Culture" program with them which is doing exercises with them to give them stimulation such as holding them upside down, playing with their feet, etc.  
Show and pet inquiries welcome.  The best way to contact me is via email as I can keep up with email better than phone calls.  My email is Pam@galewinns.com or you can email me through this website.
Ch. Courtwood Inn Keeper ROM

CH. Chandar's Lavender Lace

Ch. Courtwood Inn Keeper ROM

Ch. Meadowlark's Irish Monarch ROM

Ch. Courtwood Halls O' Ivy

CH. Rendition Mercedes Benz