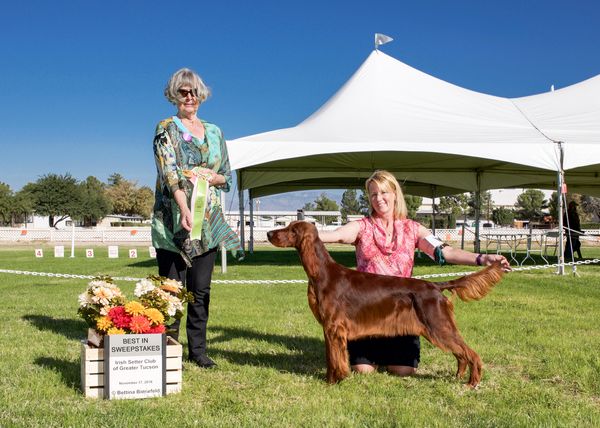 Conor

is a dog that I grown to love - he has a very easy going temperament and loves every dog and every person. He has a wonderful toy drive and has had a ball running agility with his owner, Debbie Murray (RedTale Irish Setters).  He finished his conformation championship easily and is now having fun in the ring as a veteran (he is 7 years old).  He has produced very nicely and we are excited to see what this breeding brings!
Deni

is my stud fee puppy that I took from the second Bartley/Buttercup litter.  We liked the breeding so much the first time that we repeated it again.  And boy am I glad we did!! Deni has the sweetest temperament and has lovely conformation .  She is very intelligent and learns so fast.  Her and I are in agility training together - I am her biggest handicap!!  She has been shown only a few times in conformation and has a Best In Sweeps and a 5 point major reserve to her credit.  

We had talked about doing this breeding down the road...however Conor and Deni and a different idea.  And, of course, with any breeding that happens when you dont' plan it, there is going to be a big litter!!

Show and pet puppy inquiries welcome.
3/11/17 - Xray done today of Deni - there are 11 puppies in there!!  Stay tuned...puppies are due on March 19-21st.
3/22/17 - BABIES ARE HERE!!
Deni
had 12 puppies - 8 girls and 4 boys!!  All are doing well - Deni is being a great mom....it is a big load for her but she is managing.  Scroll down for some pictures.  She whelped them fairly easily - first puppy was born at 11pm - last puppy born about 5:30 am.  Not bad for a new mom!!  We are all so relieved....
CH. Courtwood Spin Off, ROM

Ch. Courtwood Inn Keeper ROM

Ch. Courtwood Inn Keeper ROM

Ch. Meadowlark's Irish Monarch ROM

Ch. Courtwood Halls O' Ivy

Ch. Courtwood Grand Hotel TD, CGC, ROM